The Planned Temple, TX Facility Size Increase Will Meet Growing Consumer Demand For Fresh Greens, Now Including Head Lettuce - All Delivered Within 24 Hours of Harvest
Today Revol Greens, a leading producer of high-quality, locally grown, greenhouse lettuce, announces the successful completion of a facility expansion to its Temple, TX greenhouse. The site's step-up to 20 acres scales the company's output to meet accelerated local Texas consumer demand for Revol Greens' fresh, greenhouse-grown organic baby leaf and romaine head lettuce programs. It marks a significant milestone in Revol Greens' commitment to serve Texas (and beyond) by product delivered from its greenhouse to local stores and restaurants within 24 - 48 hours of harvest to customers including Sprouts, Walmart, Target, Costco, Amazon Fresh, Aldi, US Foods, and United Supermarkets.

"We are thrilled to share this exciting news with our customers and partners," said Michael Wainscott, CEO of Revol Greens. "Since opening our Temple greenhouse in May of this year, the team, community and customer's response has surpassed our expectations - and the full launch of our phase one strategy will help deliver upon those commitments."
Since opening our Temple greenhouse in May of this year, the team, community and customer's response has surpassed our expectations - and the full launch of our phase one strategy will help deliver upon those commitments. - Michael Wainscott, CEO of Revol Greens
The expansion introduces its head lettuce program in Texas, which will include organic and conventional varieties of butter leaf and romaine lettuce during a time period where field alternatives make the tenuous transition to Yuma, Arizona. Throughout 2023, Revol Greens has significantly expanded its romaine program and now Revol's romaine heads are sold in over 2,500 retail stores nationwide. This program has continued to see significant growth as customers look for consistent lettuce offerings given the headwinds the broader lettuce industry has been facing.
The completed expansion also supports the company's ongoing commitment to a scaled approach while maintaining sustainability and responsible farming practices. The increased output and expanded head lettuce program reduces Revol Greens' and their customers footprint by reducing lead-time, shrink and freight miles by local delivery of its fresh, pesticide-free, Non-GMO greens year-round.
"The macro environment continues to be a challenge, stressing critical factors of our food supply - from climate change, labor shortages, and continued inflationary trends," Wainscott continued. "Our customers in Texas and beyond have sought solutions for these factors which has led to our most rapid launch to date. From our nationwide romaine program to our robust organic offering, we provide optionality and assurity of supply to our customers."
Revol Greens products can currently be found between $2.99-$3.99 retail in Walmart, Costco, Sam's Club, Amazon Fresh, Target, Sprouts, and United Supermarkets. For more information visit www.revolgreens.com.
About REVOL GREENS
Revol Greens is the leading greenhouse lettuce grower in North America and a benefit corporation. The Austin-based company harvests and delivers its packaged lettuce and leafy greens products daily, resulting in the freshest taste and peak nutrition with a shelf life of four to six days longer than out-of-state leafy greens. Revol Greens adopts the most advanced greenhouse technology and growing methods in the industry, including facilities that use 90 percent less water than traditional field-grown greens, irrigation from UV-sterilized rainwater and snowmelt, and sustainable sunlight. Grown Clean and Green® in an animal and pest-free environment with no pesticide residues, no herbicides or other harmful chemicals used in the process. Revol Greens currently grows more than 30 million pounds of non-GMO lettuce and leafy greens annually with a coast-to-coast footprint. For more information, visit www.revolgreens.com and follow Revol Greens on social media @revolgreens.
Featured Product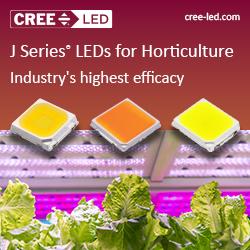 Horticulture and other forms of agricultural lighting require application-tuned ratios of spectral content, high efficacy and long lifetimes. Since these systems are designed to maximize yields for plants and animals, they require different metrics than lighting products designed around the human visual system. Cree LED delivers a wide range of spectral options and products optimized for these applications with leading efficiency and reliability.