-Company improves end-to-end customer experience by ensuring on-time deliveries and quality control over transportation -Nearly 500 HelloFresh and Factor branded vehicles are now rolling and making deliveries in 19 major metro locations -Last mile delivery advances company's sustainability initiatives with both carbon and packaging reduction
HelloFresh, the global food solutions group, announced today the launch of its own delivery fleet network. Outfitted in both HelloFresh and Factor branding, the company-managed fleet is now available in 19 major metropolitan areas. The last mile solution marks a significant investment in the customer experience by ensuring on-time delivery and improving quality control, while also furthering the company's sustainability efforts with a focus on electrification.

Operating its own fleet of nearly 500 vans allows HelloFresh to reduce transit times and leads to a better end-to-end customer experience. Leveraging newly established software provides HelloFresh with greater visibility around the customer experience. This includes having real-time communication between HelloFresh customers and drivers that enables quicker customer service support in times of need. By managing the entire logistics process and having full visibility of the life of the box, HelloFresh can adapt quickly to address issues while still ensuring customers receive on-time deliveries. And with the last mile solution, HelloFresh can swiftly respond to fluctuations in demand.
"HelloFresh is always innovating to provide a best-in-class experience for our customers," said Nunzio Di Savino, Vice President of US Logistics for HelloFresh. "Our delivery fleet is one new way that we're ensuring customers' orders arrive fresh and on time. Our main priority will always be to offer our customers the most seamless end-to-end experience."
The owned fleet is available in major metro markets where HelloFresh is able to provide a faster experience for customers, but still works with preferred carrier partners in many locations across the US. This hybrid approach ensures customers receive their meal kits and ready-to-eat meals from the HelloFresh portfolio, including Factor, Green Chef, and EveryPlate, with the best possible delivery solution.
Consumers will easily identify deliveries in clearly marked HelloFresh and Factor branded vans. For a growing brand like Factor, the company is able to leverage its fleet to drive further awareness for its ready-to-eat meal delivery service.
"Fresh prepared food is one of the fastest growing grocery segments, and Factor leads the market with healthy, convenient, high-quality ready-to-eat meals. We're proud to be able to bring more awareness to this offering through great branding opportunities like our delivery fleet," added Di Savino.
Last mile solution delivers sustainable savings
The delivery network optimizes driving routes to decrease the distance traveled from distribution center to doorstep. Not only does this further reduce HelloFresh's carbon footprint, but allows the company to reduce packaging such as insulation and ice packs (6-10% packaging weight reduction on each box) and food waste as well thanks to shorter transit times. A portion of the fleet includes electric vehicles, with the plan to electrify the last mile network over the next few years, creating a unique opportunity for HelloFresh to further decrease greenhouse gas emissions.
To further support the company's mission in giving back to the community, the delivery network has been utilized to bring more than 1,700 boxes of surplus food to 15 food banks and charity organizations across the country. To learn more about the company's sustainability efforts, click here.
About HelloFresh
HelloFresh is the world's leading meal-kit company. Founded in Berlin in November 2011, the Company now operates across 18 international markets. In 2022, HelloFresh furthered their mission to "change the way people eat forever" by delivering more than 490 million meals to customers across the U.S. HelloFresh was voted the Most Trusted Meal Kit Delivery Service in America in 2021 and 2022 by Newsweek. HelloFresh has offices in New York, Chicago, and Boulder. For more information, visit www.hellofresh.com.
Featured Product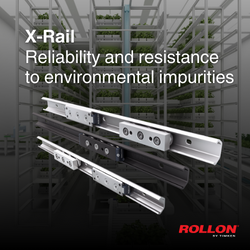 Rollon's X-Rail linear rails are a reliable solution in environments susceptible to impurities. Equipped with rolling elements with shaped and flat raceways, they are available in several versions: galvanized, nitrided or stainless-steel sheet metal. The latter version ensures total corrosion resistance, which is critical for hostile environments such as those found in vertical farming. Particularly innovative is the T + U configuration of the X-Rail linear rails, which can compensate for the parallelism errors of mounting surfaces. This simplifies installation and reduces costs.