Revol Greens, a leader in controlled environment agriculture (CEA), announces the opening of its 20-acre greenhouse in Texas adding to the nation's largest leafy greens CEA footprint of over 50 acres to support its strong increased demand.
Today, Revol Greens debuts the world's single-largest controlled environment agriculture (CEA) lettuce facility ever built. The newly erected greenhouse resides in Temple, TX, and boasts state-of-the-art technology which includes artificial intelligence tools to monitor and adjust climate control, irrigation, and energy management for maximum output and efficiency 365 days a year. The new facility is expected to create 130 jobs in the Temple, TX area while significantly expanding Revol Green's distribution in Texas and the central and southern United States.

"This is a milestone moment for our team," said Michael Wainscott, CEO of Revol Greens. "We are on a mission to provide fresh, affordable lettuce to consumers across the country. The addition of the Temple facility opens new markets to Revol Greens allowing for further reduction of food miles typically traveled within the US salad market."
With the addition of the Temple, TX facility, Revol Greens now reaches over 70 percent of the United States market when combined with its existing operations in Owatonna, MN, Athens, GA, and Tehachapi, CA. Centrally located in the heart of Texas, the city of Temple offers proximity to key customer distribution centers. Revol Greens has secured distribution partnerships with H-E-B, Sprouts, Costco, Walmart, Kroger, Target, United Supermarkets, and Amazon Fresh. Now more consumers will enjoy year-round access to Revol Greens' fresh, locally grown, organic, and conventional lettuce, including an assortment of their popular salad blends, convenient salad kits, and head lettuces - all of which reach store shelves within 24 - 48 hours of harvest.
"Revol Greens and its team members are honored to partner with the leading food retailers in Texas, as well the Texas Department of Agriculture's GO TEXAN program in support of local agriculture," said Wainscott.
Revol Greens' growing practices ensure that the perfect amount of nutrients and hydration reaches the different lettuce varieties throughout the growing cycle to achieve year-round consistency across all product lines. The company's greenhouses significantly reduce US water consumption and are on track to save 880 million gallons of water each year compared to field-grown lettuce. The new Temple facility will source most of its water by collecting rainwater, saving up to 380 million gallons of Texas water.
Revol Greens products can be found at a variety of national retailers. For more information about Revol Greens and the new Temple, TX facility, please visit www.revolgreens.com.
About REVOL GREENS
Revol Greens is the largest greenhouse lettuce grower in North America and a benefit corporation. The Austin-based company harvests and delivers its packaged lettuce and greens products daily, resulting in the freshest taste and peak nutrition with a shelf life of four to six days longer than out-of-state greens. Revol Greens adopts advanced greenhouse technologies and growing method which allows facilities to use 90 percent less water than traditional field-grown greens. Grown in an animal and pest-free environment with no pesticide residues, and no herbicides or other harmful chemicals used in the process. Revol Greens currently grows more than 30 million pounds of non-GMO lettuce and greens annually with a coast-to-coast footprint. For more information, visit www.revolgreens.com and follow Revol Greens on social media @revolgreens.
Featured Product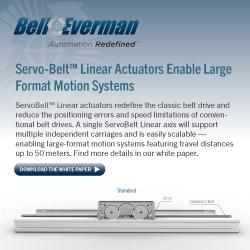 Manufacturing and packaging operations that still depend on manual material or parts handling operations can reap immediate benefits from a type of automation based on long-travel Cartesian robots with custom end-of-arm tooling (EOAT) and advanced sensing capabilities. These robots can support a variety of machines - performing otherwise manual tasks such as machine tending or transferring in-process parts - making long-travel Cartesian transfer robots a major upgrade to processes and operations. Download the White Paper from Bell-Everman