Global agriculture giants team up with Varda, the agtech 'Global Field ID' innovator, to reduce data fragmentation across the food supply chain
Thursday 2nd March, 2023: Yara, a leading global crop nutrition company based in Norway, and Syngenta Group, a world leading agriculture innovation company headquartered in Switzerland, have entered into a partnership with Varda, a new ag-tech start-up founded by Yara. The two companies want to accelerate the adoption of Global Field ID, a new technology standard that helps facilitate field data discovery and data sharing in the agriculture and food industry.

Varda digitally maps agricultural land and assigns unique IDs to land plots, creating a 'QR code for fields', delivered to users via an API. The aim of the service is to create a 'common geospatial language' for the whole industry.
The companies recognise that having a unique ID for every field is a necessary step to effectively collaborate towards a more sustainable, resilient and transparent food system.
Currently, farmers and agribusinesses use different formats to identify fields across their digital farming tools, which hinders interoperability and collaboration across the industry.
For farmers, Global Field ID means improved connectivity between their digital farming tools and more efficient communication with stakeholders beyond the 'farmgate'.
The system will be used as an additional data layer within the companies' own digital farming tools, building a shared reference framework to annotate field-level data, which is expected to generate multiple benefits:
• Enabling interoperability: a common identification system allows fields to be more easily paired by users and (digital) farming tools, resulting in increased connectivity and simpler data integration. This will also provide a benefit for farmers, offering improved data insights and cross-supply chain connectivity.
• Increasing transparency around regenerative agriculture: widespread adoption of a unique Global Field ID can significantly reduce risks of double-counting of land-based carbon sequestration or biodiversity improvement claims, enhancing the credibility and trust in land-focused climate finance and supporting existing verification protocols.
• Enhancing traceability: assigning a shared identifier to each field will make it simpler to establish an uninterrupted chain between agricultural input, field practices and crop supply chains.
The service is currently available in France and the UK and will be progressively released in Brazil, the US and key European agricultural markets in 2023, with plans for further expansion in coverage and features going forward.
Davide Ceper, Varda CEO:
"We believe that Global Field ID is an indispensable step to break 'data siloes' and make information sharing simpler, reducing time spent on information aggregation, accelerating the spread of precision agriculture and the mobilization of climate finance that are necessary to drive efficiency, while preserving soils long term health. We are proud to be partnering with two industry leaders recognized for their sustainability credentials and are eager to engage with many more companies to establish Global Field ID as an industry standard, accelerating the transformation of our food systems".
Feroz Sheikh, Syngenta Group Chief Information and Digital Officer:
"As an industry leader in innovation and cutting-edge technology, our ambition is to use digital technology to help growers maximize yield, while taking care of the planet through sustainable farming practices. Working together with Yara and through Varda's Global Field ID system we strive to improve connectivity between digital farming tools, making it more open, faster, and more efficient with the data owner's consent. We invite other industry players to join this collaboration to improve the interoperability of systems to the benefit of farmers and the entire innovation ecosystem".
Lars Røsæg, Yara Corporate Development & Deputy CEO:
"Adopting a common identification system across the industry is a major milestone for data standardization in agriculture. Our food system is under extreme pressure due to climate emergency and humanitarian crisis that can lead to a hunger catastrophe. Together, we must solve the food crisis in a way that safeguards nature, climate and livelihoods. Global Field ID is a piece of the puzzle and will both support farmers and benefit the climate. We hope the rest of the industry will join us in adopting this new industry standard."
Featured Product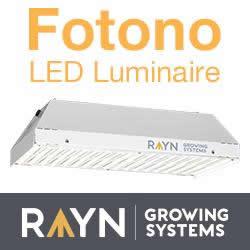 Fotono is a full spectrum LED horticultural luminaire designed to directly replace HPS lights in greenhouses. At 12 pounds, 20 inches long, and 5 inches high, Fotono's compact size makes installation simple while minimizing structural burden on greenhouses. This compact fixture packs energy-saving and yield-improving features, such as a high output, stepless dimming, advanced spectral capabilities, and more.