Immutable, real-time supply chain data will eliminate recall cycles and minimize food wastage
Today, Farm to Plate announced the immediate availability of Farm To Plate (F2P), a pioneering blockchain-based provenance and tracking product for the Food supply chain that will expand the scope of data transparency to the grassroots of the food industry - end-to-end, from the producers to the consumers. The Farm to Plate platform addresses increased regulatory demands for digitization and transparency through GS1 and FDA FSMA Rule #204 compliance and heightens brand trust, financial stability, and reputation by enabling a focus on sustainability, responsible farming, consumer transparency, and significantly reduced recall risk and size. See how it works.

Key Features and Benefits of Farm to Plate
Microtipping: Enables direct tips to producers from end consumers that are securely, instantaneously transmitted over the blockchain, eliminating middlemen and chances of fraud while giving producers a great boost to their meager revenues.
Immutable, end-to-end tracking and trace: Immutable, decentralized information ensures no single stakeholder has disproportionate information ownership, eliminating the risk of data fudging.
Secure access control for information on the blockchain: Strong access controls enable granular control over who has access to what data, ensuring only relevant, required information is accessible to different parties.
Built on GS1 standards and compliant with FDA FSMA Rule #204.
Fulfilling Consumers' Need for End-to-end Transparency
In a globalized food supply chain where food is sourced and transported across continents, the level of transparency, from sourcing, transportation, to storage and other details, that consumers are now demanding is unprecedented. Research also proves that 73% of consumers prefer brands that are sustainable, honest, and transparent about how and where products were raised or grown. Sustainable production is also high on their wishlist, with them being willing to pay a huge premium - anywhere from 30% to 40% on average - for sustainably produced goods. "Farm to Plate will be revolutionary for food brands looking to develop a strong identity with the sustainability-focused modern consumer. By enabling transparency and the ability to directly connect to their suppliers, brands can project a strong image as a modern, conscious corporation to their customers. This is the beginning of a long journey of trust between consumers and food brands."- Mika Liss, Strategic Advisor, Farm To Plate.
Farm to Plate Fills the Missing Links in the Supply Chain
Food brands are struggling with the weight of regulatory requirements and the consumers' transparency demands. Providing such in-depth and reliable information in a complex global supply chain poses challenges. There is heavy dependency on manual processes making data vulnerable to fraud and preventing timely information from passing to all stakeholders. Farm to Plate uses permissioned blockchain, AI-driven tools, and automation through IoT devices to provide access-controlled, immutable, real-time data to the right stakeholders. "We've built F2P with open, industry-standard technology that integrates seamlessly with your existing systems. And the best part about it is, it's modular, allowing us to extend its capabilities almost infinitely as we build out features in future releases."- Saptarshi Choudhury, VP of Product at Farm To Plate.
Connecting Consumers and Farmers for Sustainable Ecosystems
Through innovative use of popular messaging platforms such as WhatsApp, voice transcription, vernacular language translations and offline functionality, Farm To Plate is the first track and trace solution truly accessible to the fisherman and farmer. Through microtipping, Farm to Plate will leverage the consumer-farmer connection to bring financial stability to the producer community and reduce the risk of overfarming.
"Farm To Plate is the first food supply chain solution that will connect every stakeholder to the other, and make them part of the system. Uniquely, we connect consumers and farmers directly - enabling consumer food trust through transparency and financial sustainability for producers through a single QR code. Our value proposition is enshrined in the 5 Ts: Trace, Track, Trade, Tip, Trust - and Tip is our favorite because it acknowledges the farmer."- Pramod Sajja, President and CEO, Farm to Plate LLC. & Paramount Software Solutions Inc.
About Farm to Plate
The vision of the Blockchain team of Farm to Plate was to develop a product to transform the way the food and beverage industry operates. The success stories of Hyperledger Fabric resulted in its adoption to enable bringing the open-source ecosystem to the forefront of this technology. Farm to Plate wanted to build something that made a difference, and yet simple to adapt to fill the gaps in the existing food supply chain systems.
Featured Product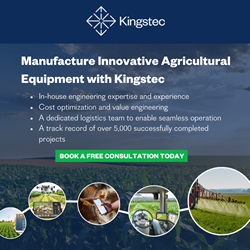 In the rapidly evolving agricultural landscape, leading AgriTech companies are increasingly leveraging the experience and expertise of strategic engineering and manufacturing partners to bring cutting-edge, cost-effective solutions to market. Kingstec is an all-in-one engineering, manufacturing, and logistics partner, with over 40 years of experience and 5,000 successfully completed projects. We can help you bring innovative, cost-optimized farm equipment, sensors, drones, components, and more to market quickly with in-house engineering and manufacturing expertise, a dedicated logistics team, and a network of world-class manufacturing and supply chain partners.