This is a first-of-its-kind partnership connecting entomology experts from Asia and Europe to advance research and development in insect farming through AI-driven insights.
22 Feb, 2023 - Singapore-based Entoverse, a startup delivering cutting-edge AI-driven digital farm management solutions for the fast-growing insect farming sector, announced today it has entered a partnership with Inagro, one of the largest insect research facilities in Europe. This is a first-of-its-kind partnership connecting entomology experts from Asia and Europe to advance research and development in insect farming through AI-driven insights.

Founded in Singapore, Entoverse develops optimised, effective and reliable ERP systems for data collection and processing tailored to each individual insect farm with sensors and artificial intelligence. Through the partnership, Entoverse will install its Entograte system within the Inagro research facility. The AI-powered Entograte system addresses key production challenges in insect farms, increases efficiency in insect egg production and larvae rearing, and supports insect farms with automatised processes to control growth conditions within farms. With access to 2 unique supercomputers and a QSAR feed module, Entograte analyses data sets such as mortality, disease, reduction in cricket mating and more, to mitigate insect population mortality through corresponding patented solutions.
Rudolf Davidov, CEO of Entoverse said, "We are very excited about this partnership. Inagro is a globally acknowledged research facility, and its interest in our solution is a true testament to the demand in the insect sector. We hope the data gathered will help optimize insect farming and support its expansion at large."
Following the rapid depletion of resources available to a growing human population, there has been growing research and interest in cultivating insects as an alternative source of protein. However, due to the sheer size of insect populations, automatised monitoring and management solutions have to be put in place to detect and prevent production challenges such as unbalanced feed, unbalanced feed, wrong temperature environments and insect disease from prematurely wiping out entire insect populations.
Stefan Teerlinck, head of research at Inagro's insect and aquaculture department said: "For Inagro, cooperation with industrial partners, especially partners with complementary knowledge, is essential in order to keep our research and its outcomes relevant for this fast-growing insect business." Inagro is a Belgian R&D agency for agriculture and horticulture. One of its departments is an insect research facility that has built experience with multiple species of black soldier fly, mealworms and house crickets. Current research is focusing on feed formulations, emission measurements, insect strain comparisons and optimising insect reproduction. With its practically oriented research, it has emerged as a valuable knowledge partner for the insect industry.
This partnership aims to create a powerful solution in farm management: identify the key aspects of insect rearing that will help optimise the rearing cycle, reduce early mortality of insects, and improve food conversion ratio. The collaboration will join efforts to automate the rearing technology by combining deep knowledge in entomology on one side and expertise in digital technologies on the other, ultimately pioneering a tool and metrics to monitor and improve insect farming to create economically sound business outcomes for the industry.
Featured Product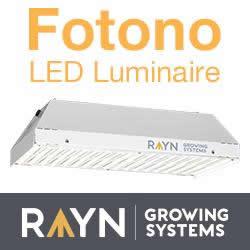 Fotono is a full spectrum LED horticultural luminaire designed to directly replace HPS lights in greenhouses. At 12 pounds, 20 inches long, and 5 inches high, Fotono's compact size makes installation simple while minimizing structural burden on greenhouses. This compact fixture packs energy-saving and yield-improving features, such as a high output, stepless dimming, advanced spectral capabilities, and more.