Wyoming supports expansion with more than $20 million in funding, largest economic development grant in state's history
Plenty Unlimited Inc. has spent nearly a decade devoted to advancing the emerging technology field of indoor agriculture. Today, the company announced it is expanding that work, scaling its R&D capabilities by building the world's largest and most advanced vertical farming research center in Laramie, Wyoming. The project is supported by a $20 million grant from the State of Wyoming through the Wyoming Business Council to the City of Laramie to help with construction and infrastructure costs. Additional funding, land and support for the project is being provided by the City of Laramie and the Laramie Chamber Business Alliance (LCBA).

"Creating this new center of excellence greatly expands Plenty's ability to transform indoor agriculture," said Plenty CEO Arama Kukutai. "We've already built one of the top indoor farming research ecosystems in the world in Wyoming. Our new facility will expand our capability to grow the widest variety of crops, which is key to unlocking the potential of this category and addresses a major limitation for the industry today. This continued commitment to innovation is what's needed to push indoor farming forward and make fresh food accessible to everyone."
Plenty's new research center is projected to be a more than 60,000-square-foot facility built on 16 acres of land in the Cirrus Sky Technology park in Laramie, which was contributed to the project by the LCBA. The new facility will double Plenty's research space compared to the Laramie facility it has occupied since 2016, diversify its research environments, and support the transition of new crops to commercial farms by incorporating areas that more closely mirror Plenty farm environments.
"Wyoming is proud to invest in the continued success of a business that was first innovated right here in the state," said Governor Mark Gordon. "The level at which Plenty will be operating in this new facility will truly advance Wyoming's preeminence as a global center of indoor agricultural research. This center gives us a tremendous opportunity to promote a state-of-the-art R&D cluster and further diversify our state's economy."
Plenty's innovation is driven by an R&D team of more than 75 scientists and 100 engineers. Over the past two years alone, Plenty's R&D work led to more than 100 new patent filings for innovations as diverse as new crop growing systems, a way to detect plant stress and new tomato plant varieties. This new research center will give talent from Plenty's backyard at the University of Wyoming and around the world the opportunity to be at the forefront of advancing plant science. Plenty will add 125 jobs at the new facility over the next six years, across a range of fields including science, research, engineering and data analysis. Through collaborations with universities, startups, vendors and more, Plenty plans to catalyze further development of the Wyoming indoor farming research ecosystem.
"Our research and development has already driven Plenty to achieve industry-leading yields in our core crops of leafy greens, strawberries and tomatoes. With this new, state-of-the-art facility, we will accelerate our pipeline, further increasing yields and bringing more diverse crops to market sooner," said Dr. Nate Storey, Plenty cofounder and Chief Science Officer. "As a Wyoming native who has devoted his career to advancing plant science here, I'm proud to be a part of helping the State play a leading role in advancing a new field."
"We need to diversify domestic agricultural production to increase the stability of the national food supply chain and ultimately to increase food security," said Doug Miyamoto, Director of the Wyoming Department of Agriculture and President of the National Association of State Departments of Agriculture (NASDA). "Wyoming is proud to support the critical work Plenty is doing here that will accelerate our understanding of the potential of indoor agriculture to contribute to better food security, and more opportunities for local production of food."
Following this morning's grant approval, the project will shift into the design phase, with plans to begin construction later this year and open the facility in early 2025. Plenty's team and research work will transfer to the new facility from its current Laramie location once it's completed.
For more information about career opportunities at the Plenty Laramie research center, please visit www.plenty.ag/careers.
About Plenty
Plenty is rewriting the rules of agriculture through its technology platform that can grow fresh produce anywhere in the world, year round, with peak-season quality and up to 350x more yield per acre than conventional farms. Plenty's proprietary approach preserves the world's natural resources, makes healthy produce available to all communities and creates resilience in our food systems against weather, location, pests and climate. Plenty operates the largest of its kind indoor plant science research facility in Laramie, Wyoming, and is currently building the world's most advanced, vertical, indoor farm in Compton, California, and the world's largest indoor vertical farm campus near Richmond, Virginia. For more information, follow Plenty on Twitter, Instagram, Facebook or LinkedIn, or visit www.plenty.ag.
Featured Product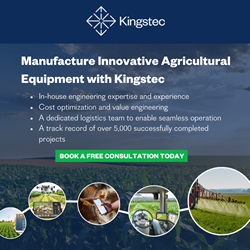 In the rapidly evolving agricultural landscape, leading AgriTech companies are increasingly leveraging the experience and expertise of strategic engineering and manufacturing partners to bring cutting-edge, cost-effective solutions to market. Kingstec is an all-in-one engineering, manufacturing, and logistics partner, with over 40 years of experience and 5,000 successfully completed projects. We can help you bring innovative, cost-optimized farm equipment, sensors, drones, components, and more to market quickly with in-house engineering and manufacturing expertise, a dedicated logistics team, and a network of world-class manufacturing and supply chain partners.