Earlier this month, Alfa Chemistry released alcohol-functionalized pheromones, which is another step to further enrich its offering of various specialty chemicals.
The management of Alfa Chemistry announces that the company is now also committed to becoming a leading manufacturer and supplier in the field of insect pheromones. Earlier this month, alcohol-functionalized pheromones were released, which is another step to further enrich its offering of various specialty chemicals.

Pheromones serve as messengers that affect the behavior of insects and thus have long been known to be important to the lives of insects. There are many types of insect pheromones, alcohol-functionalized pheromone is just one type, featuring relatively smaller size and simpler structure as compared with the insect parapheromone modified by ester functionality and aldehyde functionality. Alcohol-functionalized pheromone is mainly trail parapheromone parapheromone, most of which come from bees and termites.
"The application of the trail parapheromone of this kind of alcohol functionality can effectively affect the aggregation of insect populations and carry out targeted trapping or induction. To sum up, alcohol-functionalized pheromones are mainly applied in the development of apiculture and agriculture as well as termite control," says one of the senior scientists from Alfa Chemistry.
The alcohol-functionalized pheromones provided by Alfa Chemistry include but are not limited to: oleyl alcohol (cas 143-28-2), 2-(4-methoxyphenyl)propan-2-ol (cas 7428-99-1), 4-fluorophenethyl alcohol (cas 7589-27-7), cis-3-hexen-1-ol (cas 928-96-1), 3z-hexen-1-ol (leaf alcohol), and more.
To learn more about Alfa Chemistry's various offering of alcohol-functionalized pheromones and other insect pheromones, please visit https://pheromones.alfa-chemistry.com/products.html or just email us for suggestions in case of any questions.
About Application of Trail Parapheromone
Trail parapheromones are widely used in fields like apiculture, agriculture as well as termite control. More specifically, trail parapheromones can improve the efficiency of pollination, increase the yield and quality of fruits, control the separation of bees, and increase the yield of the colony. Meanwhile, trail parapheromone can also be used to lure termites and kill termites in a targeted manner.
About Alfa Chemistry
Having been a reliable source of varieties of chemicals during the past decade, Alfa Chemistry still wants to extend this honor in the years to come. To this end, it spares no effort to upgrade and optimize its product lines, aiming to bring the best-quality and most needed chemicals or materials to researchers in both academia and industry manufacturing. Recently, it starts to provide a comprehensive range of insect pheromone products for integrated pest management. In addition, Alfa Chemistry also provides tailored solutions for crop protection, plant protection, pest control, gardening, agriculture, forestry and home garden protection.
Featured Product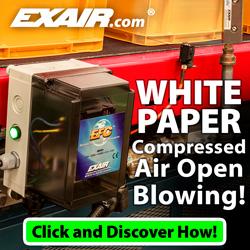 Compressed air is a limited resource that is generated in-house for the benefit of many operations within the manufacturing environment. Learn how to ensure all point of use applications are using your compressed air in the most effective and efficient way possible. Learn how much it costs to produce that compressed air and how Engineered Nozzles can help you use your air more effectively and efficiently.