Kroptek is pleased to announce some fresh news from our Network of Sustainable Farms…
Kroptek is pleased to announce some fresh news from our Network of Sustainable Farms…

Our urban mushroom farm, La Boite a Champignons (LBAC), has signed up for Too Good To Go (TGTG) to cut food waste further and fulfil their zero waste mission by redistributing any surplus oyster mushrooms from their farm directly to consumers at a reduced price.
Both Too Good To Go and Kroptek are like-minded in their mission to reach zero food waste. Founded in Denmark, Too Good To Go provides a platform for businesses to sell any overflow produce near closing time to cut food waste. Since launching in France in 2016, it now hosts a network of 32,000 businesses and over 39 million bags of food, that would have otherwise gone to waste, have been purchased to date.
Similarly, La Boite a Champignons was set up with reducing food waste at the centre of its mission. LBAC collects used and discarded coffee grounds and transforms them to grow gourmet grey-oyster mushrooms.
Signing up to TGTG is just the latest way LBAC turns waste into value. Waste coffee grounds are transformed into the substrate used to grow the oyster mushrooms and then any leftover substrate is sent to local farmers as fertilizer. Any overflow mushrooms will now be redistributed at a reduced price with TGTG, bringing the loop full circle. In just their first week working together, over 30 kilograms of mushrooms were saved and redistributed.
Every year, over 1.3 billion tonnes of food go to waste worldwide, 18 million tonnes of that is wasted coffee grounds and mushroom cultivation results in 3 million tonnes of waste a year in the EU.
This latest development highlights Kroptek's sustained commitment to not just tackling the enormous food waste problem but turning food waste into an opportunity for profitable and scalable ventures.
Featured Product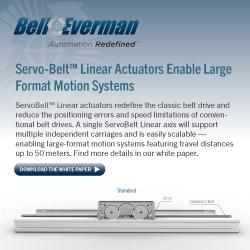 Manufacturing and packaging operations that still depend on manual material or parts handling operations can reap immediate benefits from a type of automation based on long-travel Cartesian robots with custom end-of-arm tooling (EOAT) and advanced sensing capabilities. These robots can support a variety of machines - performing otherwise manual tasks such as machine tending or transferring in-process parts - making long-travel Cartesian transfer robots a major upgrade to processes and operations. Download the White Paper from Bell-Everman