Established and respected leader in delivering solution-driven applications that include Ingersoll Rand owned Dosatron technology, focused on non-electric, water powered dosing pumps for applications in high growth sustainable markets such as hydroponics, animal health, food safety and sanitation, and water treatment
Ingersoll Rand Inc. (NYSE:IR), a global provider of mission-critical flow creation and industrial solutions, has acquired Dosatron International L.L.C. and Dilution Solutions L.L.C. (collectively, "Dosatron International") for an all-cash upfront purchase price of approximately $90 million, with additional future consideration of up to $15 million.

Based in Clearwater, Fla., Dosatron International is a leading technology solutions provider of water powered dosing pumps and systems in North America, with an established presence in attractive end markets including hydroponics, horticulture, animal health, food safety and sanitation, and water treatment. The company has approximately 45 employees and will join Ingersoll Rand's Precision and Science Technologies (PST) segment.
Dosatron International is a highly regarded, customer-centric company and a leader in innovation. It brings differentiated digital controls and Industrial Internet of Things (IIoT) solutions for hydroponics, which can be leveraged across the broader Ingersoll Rand portfolio.
"Our Dosatron brand is a global leader in energy efficient, water-powered dosing technology that plays at the nexus of clean and sustainable farming. This acquisition will enable us to more closely align our new product development with end user needs," said Vicente Reynal, chairman and chief executive officer of Ingersoll Rand. "Dosatron International has extremely strong customer relationships in growing end markets like indoor farming and has developed unique IIoT solutions and systems to serve these customers. We see significant opportunity to introduce other Ingersoll Rand product lines including Maximus, Ion Solutions and LMI to these markets and customers."
"We're thrilled to combine our efforts with Ingersoll Rand to move the company's legacy forward. This transaction provided the best combination of benefits for our most important stakeholders, our customers, and our employees," said Eddy and Lela Kelly, co-founders of Dosatron International.
About Ingersoll Rand Inc.
Ingersoll Rand Inc. (NYSE:IR), driven by an entrepreneurial spirit and ownership mindset, is dedicated to helping make life better for our employees, customers and communities. Customers lean on us for our technology-driven excellence in mission-critical flow creation and industrial solutions across 40+ respected brands where our products and services excel in the most complex and harsh conditions. Our employees develop customers for life through their daily commitment to expertise, productivity and efficiency. For more information, visit www.IRCO.com.
Featured Product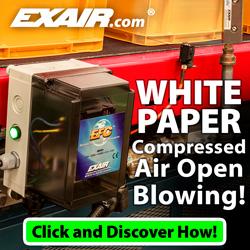 Compressed air is a limited resource that is generated in-house for the benefit of many operations within the manufacturing environment. Learn how to ensure all point of use applications are using your compressed air in the most effective and efficient way possible. Learn how much it costs to produce that compressed air and how Engineered Nozzles can help you use your air more effectively and efficiently.