VERTICAL FARMING: A NEW FOOD SYSTEM TO HELP FEED THE WORLD Date: September 7, 2022 (Wednesday) Time: New York 10:00 | London 15:00 | Paris 16:00 | Singapore 22:00 | Sydney 00:00 (September 8) Duration: 60 minutes Event structure: Panel discussion Registration fee: Complimentary access
Controlled Environmental Agriculture Online

VERTICAL FARMING: A NEW FOOD SYSTEM TO HELP FEED THE WORLD
Date: September 7, 2022 (Wednesday)
Time: New York 10:00 | London 15:00 | Paris 16:00 | Singapore 22:00 | Sydney 00:00 (September 8)
Duration: 60 minutes
Event structure: Panel discussion
Registration fee: Complimentary access
Webinar on-demand: Available (registration is required).
Join us in this FREE interactive event featuring the leading experts in vertical farming and controlled environment agriculture (CEA). This thought-provoking webinar will explore how vertical farming can be of prime importance as a new food system to help feed the people and the planet in the coming decades.
Presenters:
Paul PG Gauthier, Professor of Protected Cropping, The Queensland Alliance for Agriculture and Food Innovation, The University of Queensland, Australia
Gary Grinspan, Co-Founder and CEO, Future Crops
Leo Marcelis, Professor and Head of Chair Group, Horticulture and Product Physiology, Department of Plant Sciences, Wageningen University, The Netherlands
Moderator: Joel L. Cuello, Professor of Biosystems Engineering and Director of Graduate Studies, Interdisciplinary Applied Biosciences (Bioeconomy and New Food Systems), University of Arizona, USA; Vice Chair, International Association for Vertical Farming
Featured Product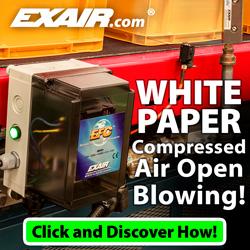 Compressed air is a limited resource that is generated in-house for the benefit of many operations within the manufacturing environment. Learn how to ensure all point of use applications are using your compressed air in the most effective and efficient way possible. Learn how much it costs to produce that compressed air and how Engineered Nozzles can help you use your air more effectively and efficiently.