VERTICAL FARMING: A NEW FOOD SYSTEM TO HELP FEED THE WORLD Date: September 7, 2022 (Wednesday) Time: New York 10:00 | London 15:00 | Paris 16:00 | Singapore 22:00 | Sydney 00:00 (September 8) Duration: 60 minutes Event structure: Panel discussion Registration fee: Complimentary access
Controlled Environmental Agriculture Online

VERTICAL FARMING: A NEW FOOD SYSTEM TO HELP FEED THE WORLD
Date: September 7, 2022 (Wednesday)
Time: New York 10:00 | London 15:00 | Paris 16:00 | Singapore 22:00 | Sydney 00:00 (September 8)
Duration: 60 minutes
Event structure: Panel discussion
Registration fee: Complimentary access
Webinar on-demand: Available (registration is required).
Join us in this FREE interactive event featuring the leading experts in vertical farming and controlled environment agriculture (CEA). This thought-provoking webinar will explore how vertical farming can be of prime importance as a new food system to help feed the people and the planet in the coming decades.
Presenters:
Paul PG Gauthier, Professor of Protected Cropping, The Queensland Alliance for Agriculture and Food Innovation, The University of Queensland, Australia
Gary Grinspan, Co-Founder and CEO, Future Crops
Leo Marcelis, Professor and Head of Chair Group, Horticulture and Product Physiology, Department of Plant Sciences, Wageningen University, The Netherlands
Moderator: Joel L. Cuello, Professor of Biosystems Engineering and Director of Graduate Studies, Interdisciplinary Applied Biosciences (Bioeconomy and New Food Systems), University of Arizona, USA; Vice Chair, International Association for Vertical Farming
Featured Product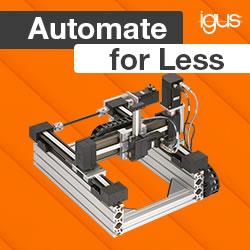 drylin® gantry robots consist of two base X-axes, a Y-axis, and an optional Z-axis. Their self-lubricating plastic liners have been engineered to slide instead of roll and to run smoother and quieter than recirculating ball bearings. drylin® gantries are also lightweight, corrosion-resistant, maintenance-free, and cost up to 40% less than traditional gantry robots. Visit this webpage to learn more.