The online event was hosted by Agri-Tech Innovation Centre Crop Health and Protection (CHAP), and aimed to discuss the latest trends and opportunities within this fast developing area of crop production.
PHARMACEUTICAL crop production, developing sustainable substrates, building global-scale facilities and revolutionising London's foodie scene are all on the cards for the future of vertical farming. That was the take home message from a recent webinar dedicated to 'what's growing' in the sector.

The online event was hosted by Agri-Tech Innovation Centre Crop Health and Protection (CHAP), and aimed to discuss the latest trends and opportunities within this fast developing area of crop production.
Chaired by CHAP's Head of Marketing and Communications, Janine Heath, the webinar was the result of heightened interest in the topic area, which is one of CHAP's key focus areas. Janine said: "Vertical farming has great potential to help address the current food chain challenges that we face, and luckily, innovation in the sector is thriving.
"The webinar brought together four guest speakers who are very much on board with that message - what are the opportunities in vertical farming, and how is innovation accelerating its growth?
"Even more encouraging was the positive discussion taking place through the Q&A and online chat facility. This is a collaborative space and the webinar demonstrated that to be the case!"
Opening the presentations was CHAP's Dr Harry Langford, who gave an overview of vertical farming before exploring the next 'big crops' for the industry. This included pharmaceutical crops and alternative plant proteins.
Dr Langford said: "We're only just beginning to see alternative proteins being explored in vertical farming. But examples such as water lentils from a protein powder perspective, and short-stature soybean cultivars, are starting to be explored and optimised through research and development.
"Although that process takes time, we expect there to be commercialisation opportunities within vertical farming , or more broadly within controlled environment agriculture, for more novel crops like these. Developments such as this make it a really interesting time to be involved in the sector."
Following this, CEO of AEH Hydrogel and multi-award winning entrepreneur, Dr Beenish Siddique, shared news of a substrate innovation, and how this is transforming the sustainable credentials of vertical farming.
Dr Siddique said: "Our focus is to phase out peat as a growing medium in agriculture, given the impending ban on its use. Although a challenge, this is a great opportunity for businesses to improve their position on sustainability.
"We're doing this through Gelponics - a range of non-synthetic hydrogel formulations that can significantly reduce the carbon footprint of systems such as vertical farming or greenhouse production.
"As part of development work we're doing, we've conducted germination trials using the substrate. These have demonstrated more than 90% success rate for crops such as lettuce, basil and spinach, which is very promising."
The webinar's third speaker was Oli Kaberry, Head of Business Operations at Jones Food Company. He spoke about the commercial business aspect of vertical farming, and what the future holds for them, as they embark on building one of the world's largest vertical farms.
Mr Kaberry said: "The basil we grow at Jones Food Company has three outlets. Firstly the wholesale B2B market, so to the distributors that feed into the leading retailers.
"Secondly, we supply recipe meal boxes, which we hope to increase our exposure to, as the concept really does go hand-in-hand with vertical farming.
"Finally, we supply direct to a pasta company for their pesto. This is again something we hope to explore further, and consider whether we could indeed produce our own manufactured products for retail.
"This was all driven by the potential for mass exposure, and how we could achieve the biggest impact whilst educating consumers."
Concluding the speaker line-up was Ed Morgan, Director of Communications at Harvest London. Mr Morgan discussed how vertical farming can support brands with sustainability goals, in particular, their partnership with a London-based pizza chain.
He said: "Pizza Pilgrims has around 15 restaurants and naturally use a lot of basil. Before working with us, demand was met by importing from Italy or the Middle East.
"Working with us has enabled them to reduce food miles considerably, but also explore basil varieties and choose which works best on the pizza.
"For them, our relationship is story-based, as they can talk about our vertical farm and share that the basil is sourced from less than 10-miles away. They've even opened a sustainability-focused restaurant in Selfridges, which has some of our basil growing within the restaurant as a talking point."
The webinar concluded with an interactive Q&A, fuelled by interest from the audience. To watch a recording, visit CHAP's YouTube channel. For more information about CHAP's commitment to Controlled Environment Agriculture, visit the website, or e-mail enquiries@chap-solutions.co.uk
Featured Product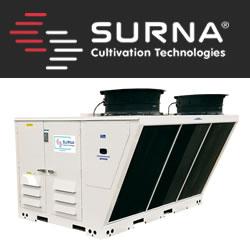 The EnviroPro Packaged DX HVACD Unit utilizes hot gas reheat to provide both cooling AND dehumidification all in one central unit. Its variable speed components allow it to make more nuanced adjustments, saving energy and avoiding temperature swings that can come from single-stage equipment. Due to its affordability, versatility, and industry-leading warranty, the EnviroPro Packaged unit is one of Surna's most popular HVAC offerings.