Jack Vickery has joined Light Science Technologies (LST) as National Account Manager as growth shows no signs of slowing for the AgTech specialist.
The new addition to its sales team is the latest of a string of appointments at the Derbyshire-based company which specialises in lighting and sensor technology for indoor farming, covering vertical farming, greenhouses and polytunnels. In recent months it has welcomed fresh talent to all aspects of the business in response to rapid growth and rising demand for more sustainable food production.

Jack's first foray into the industry was as a commercial graduate at Philips Lighting, before working for the company in a commercial role for 10 years when it became Signify. Here, he worked across several sectors including the healthcare sector and also office and industry, where he worked with global automotive clients including Honda and Jaguar Land Rover, before working on major street lighting contracts and tenders.
In his new role, Jack will use his commercial acumen to grow the business's fast-expanding customer base of indoor growers and nurseries across the UK.
On his new position, Jack commented: "It's just exciting to be involved at the start of something at ground level which has huge growth potential. This opportunity also resonates with me on a more personal level, as we're faced with an exploding global population we're going to have to feed with ever-diminishing space and a disrupted supply chain. To do that in a more sustainable way requires a complete change in our approach to eating and growing fresh food. Ethically, it's all our responsibility to do this, and it's this clarity that will help me drive the business forward."
Simon Deacon, Founder and CEO of LST, said: "Jack's appointment could not have come at a better time during what is a pivotal period of growth for the company, we are extremely excited by the opportunities afforded to us.
"Jack will help support the business' strategic objectives in continuing to build on our contracts and sales pipeline, and expand into new markets in lighting, sensors and automated crop production and management systems. He will without doubt bring an immense amount to the team in experience and skillset to help us achieve this."
ENDS
Editor's notes:
About Light Science Technologies Ltd
Light Science Technologies Ltd delivers lighting, science and research-proven plant monitoring technology and software in partnership with world-leading university research teams. We work across multiple indoor applications including vertical farming, greenhouses and poly tunnels across different plant species, delivering the right solution no matter what environment. Our integrated technology solution for Controlled Environment Agriculture (CEA) applications for next-generation scalable farming helps customers grow more with less. For further information, visit: www.lightsciencetech.com.
About Light Science Technologies Holdings plc
Light Science Technologies Holdings Plc brings together market-leading controlled environment agriculture technology (Light Science Technologies Ltd) and quality led UK based electronic manufacturing (UK Circuits and Electronics Solutions Ltd) to help our customers grow more with less. We specialise in creating and manufacturing bespoke solutions for global clients across agriculture, electronics, audio, automotive, AI technology and pest control industries.
Featured Product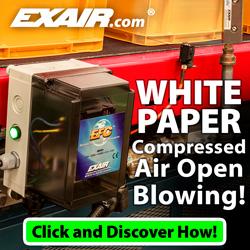 Compressed air is a limited resource that is generated in-house for the benefit of many operations within the manufacturing environment. Learn how to ensure all point of use applications are using your compressed air in the most effective and efficient way possible. Learn how much it costs to produce that compressed air and how Engineered Nozzles can help you use your air more effectively and efficiently.