The pilot project demonstrates a viable vertical farming model using repurposed and empty commercial spaces to pursue a green path of recovery.
Glens Falls, New York -- Re-Nuble, a social enterprise and agricultural technology

company, announced its partnership with the City of Glens Falls and multiple technology and service providers to collaboratively develop a scalable vertical farming model. Re-Nuble, which reutilizes localized food waste for more transparent and sustainable growing practices, is helping design the vertical farming model to grow a wide variety of vegetables, herbs, and fruiting crops for both local restaurants and community members.
"Our 480-square foot vertical farm will provide a modular, scalable model for growing year-round cropsusing Re-Nuble's closed loop agriculture methods in northern climates, while also keeping the food stream local. At the same time, we will be able to help contribute to Governor Hochuls' 2022 Nourish NY and Health Communities goals for 2022," said Tinia Pina, Re-Nuble Founder and CEO. Global demand of vertical farming has spiked to fill the fresh produce supply gap for retail wholesalers(Barclays 2021), sparking conversation about the increased need for vertical farms. However, traditionally, vertical farms face high start-up costs, heavy energy usage, and potential ongoing labor expenses. This project will offer communities an alternative way to use long-abandoned buildings and structures and openly shared sustainability benchmarks.
"When we think of cities, we often think of buildings. Yet, these are assets which can easily be transformed, revitalized, and given new meaning. In New York, we found approximately 108 properties that are at least an acre in size, a typical vertical farm size, that are vacant and/or distressed. These properties amount to a square footage of 40,251,618 in terms of unused lot size. Based on our model, if we were to fill up all 108 of these properties with vertical farms, it would result in over $350,000 in revenue per year., approximately $110,000 in annual employee income, as well as approximately 2,500 full-time jobs for the New York State," Pina said.
Projected to be a success, this project will result in viable and sustainable efforts that will lead to a template for such farms to be built across New York in non-urban regions. In turn, it will create more equitable opportunities in the growing industry.
"We have an opportunity in front of us to leverage agricultural development through public-private
partnerships, a reflection of cities such as Glens Falls that are looking for innovative ways to create new economy, green recovery jobs," said Jeff Flag, Glens Falls' Economic Development Director.
For much of the past decade, the City of Glens Falls has been reinventing itself as the commercial, cultural and innovation gateway to the Adirondack region. This move by the City of Glens Falls comes at a time where New York is making agriculture a key focus on their agenda, with Governor Hochul announcing dedicated investments for the industry in her first State of the State Address earlier this year. In addition to the 1.62 metric tons of CO2e that a one-acre farm eliminates annually as well as the 18.75 pounds of CO2e removed from the atmosphere for every gallon of Re-Nuble's Away-We Grow used at the site, Pina and Flagg both expressed looking forward to combining all of the sustainability expertise from a select team of agriculture professionals and outside research consultants. These partners include National Grid, one of the largest investor-owned energy companies in the US; Abbott Energy, an engineering
contractor serving municipal, commercial and industrial clients; Pipp, the a leading provider of movable vertical growing solutions; Fluence by OSRAM, a leading global provider of energy-efficient LED lighting solutions for commercial food and cannabis production; and GDS Associates, Inc., an engineering and consulting firm.
To learn more about this project, visit: https://landingpage.re-nuble.com/glen-falls-vertical-farm
ABOUT RE-NUBLE
Re-Nuble is an MWBE-certified social enterprise and agricultural technology company that uses organic cycling science™ technology to transform unrecoverable vegetative food byproducts into a platform of sustainable technologies for indoor growing. Our closed-loop process transforms unrecoverable food byproducts into organic goods while eliminating landfill waste and greenhouse gasses. We were founded with the mission to help global agricultural communities reimagine localized food waste for more sustainable, environmentally-friendly growing practices.
For more information, please visit www.re-nuble.com
Featured Product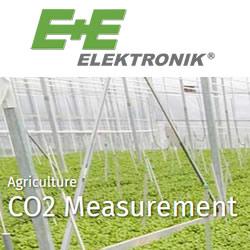 Lowering of energy costs, acceleration of growth and extension of the possible storekeeping duration can be optimised by the precise measurement of humidity, CO2-content and temperature. Optimum basic conditions for animals and plants ensure best agricultural products. As different applications demand various adopted solutions for optimization of agricultural processes, E+E Elektronik provides a broad portfolio of agricultural monitoring products