• Transaction to result in Kalera becoming a publicly listed company on NASDAQ and delisting from Euronext Growth Oslo exchange during Q2 2022. • This all-stock transaction creates a combined company with an equity value of approximately $375 million on a fully diluted pro forma basis, assuming no redemptions from Agrico's shareholders.
Orlando, FL and Houston, TX, January 31, 2022 - Kalera AS ("Kalera"), one of the preeminent leafy green vertical farming companies and a leader in plant science for producing high-quality produce in controlled environments, and Agrico Acquisition Corp., a special purpose acquisition company (SPAC), today jointly announced that they have entered into a definitive merger agreement. As a result, Kalera will transition from its current Euronext Growth Oslo listing to a publicly listed company with its common shares traded on the NASDAQ stock market.

Curtis McWilliams, Interim Chief Executive Officer of Kalera, said, "Kalera and Agrico together form a team with the expertise to bring Kalera's fresh, clean and sustainable Local Living LettuceTM to consumers across the globe. A tremendous need exists for healthy, sustainable, and surprisingly affordable food. At Kalera, we believe we have a business model that can bring nourishment across the globe while reducing environmental impact."
Brent De Jong, Chairman and Chief Executive Officer of Agrico, said "Kalera is already positioned as a leader in the vertical farming industry with its 10 facilities operating or construction nearly complete and Vindara, its seed business dedicated to controlled environments. The proposed merger with Agrico positions Kalera to be the first leafy green vertical farm company to have a national footprint in the US and be able to reliably supply a national off-take contract while still being local. The Agrico team and its scaling experience will supplement an already strong Kalera management team and Board of Directors."
Kalera's current management team and recently appointed Interim CEO Curtis McWilliams will continue to oversee the business, including the plan to further expand Kalera's global network of vertical farms. With four facilities operating and six more under construction, the company believes that the team is well on the path to achieving this vision.
Transaction Overview
• Kalera and Agrico will merge to create a combined company that will be listed on NASDAQ.
• The share exchange ratio implies a pro forma equity valuation of the combined company of $375 million on a fully diluted basis, assuming no redemptions by shareholders of Agrico.
• If no public shareholders of Agrico exercise their redemption rights, existing Kalera equity holders will own approximately 52%, and Agrico shareholders would own approximately 42% of the issued and outstanding common stock of the combined company at closing. If some Agrico shareholders redeem their shares, Kalera shareholders would own a higher percentage of the combined company and Agrico shareholders would own a smaller percentage.
• Kalera and/or Agrico may raise additional capital prior to the closing of the transaction.
• The transaction, which has been approved by the boards of directors of both of Kalera and Agrico, is expected to close in the second quarter of 2022. The transaction remains subject to approval by both Agrico and Kalera shareholders, as well as other customary closing conditions.
Additional information about the proposed transaction, including a copy of the business combination agreement, will be provided in a Current Report on Form 8-K to be filed by Agrico with the Securities and Exchange Commission (the "SEC").
Advisors:
BofA Securities acted as financial advisor to Kalera AS in connection with the transaction. Milbank LLP and Advokatfirmaet Thommessen AS acted as legal counsel to Kalera. FTI Consulting acted as financial advisors to Agrico and Maples Group and Loeb & Loeb LLP acted as legal counsel for Agrico.
Investor Conference Call Information:
Kalera will host an investor conference call and webcast at 8:00 ET Wednesday, February 2, 2022, to discuss the proposed transaction. The event will include a presentation by Kalera & Agrico leadership followed by Q&A.
The link for the webcast and presentation will be available on the company's website under Investors. https://kalera.com/investors/
Announcement includes inside information:
This announcement is considered to include inside information pursuant to the EU Market Abuse Regulation and is subject to the disclosure requirements pursuant to section 5-12 of the Norwegian Securities Trading Act. This announcement was published by Rune Damm at the date and time set out above.
About Kalera:
Kalera is a vertical farming company headquartered in Orlando, Florida. The company produces fresh, nutritious, and excellent tasting leafy greens with minimal environmental impact. It has spent several years optimizing plant nutrient formulas and developing an advanced automation and data acquisition system with Internet of Things, cloud, big data analytics and artificial intelligence. Kalera currently operates farms in Orlando (Florida), Atlanta (Georgia), Houston (Texas), and Kuwait. More information is available at https://www.Kalera.com/.
About Agrico:
Agrico Acquisition Corp. is a blank check company, also commonly referred to as a special purpose acquisition company, or SPAC and has an emphasis on AgTech. The management team has substantial experience building platforms and scaling businesses around the world. For more information please visit www.agrico.co. The information contained on, or accessible through, Agrico's website is not incorporated by reference into this press release, and you should not consider it a part of this press release.
Featured Product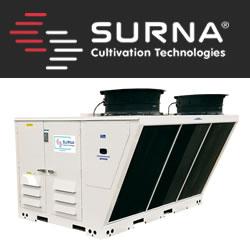 The EnviroPro Packaged DX HVACD Unit utilizes hot gas reheat to provide both cooling AND dehumidification all in one central unit. Its variable speed components allow it to make more nuanced adjustments, saving energy and avoiding temperature swings that can come from single-stage equipment. Due to its affordability, versatility, and industry-leading warranty, the EnviroPro Packaged unit is one of Surna's most popular HVAC offerings.