AgriTech firm Light Science Technologies (LST) has announced a new addition to its rapidly expanding team of scientists, as the business experiences an accelerated period of growth.
Chuan Ching Foo, known as CC, joins the team as Senior Plant Scientist, where she will take on full responsibility for the running and management of LST's onsite lab facilities where new crop testing is carried out, while also supporting the company's ongoing efforts to improve the quality, flavour, and freshness of produce for CEA growers and farmers in polytunnel, glasshouse and vertical farming.

With a background in Bioscience, CC studied in her native country of Brunei where she has a BSc in Biotechnology from Monash University, Malaysia. In 2013, she came to the UK to study for her MSc in Crop Improvement, with a focus on characterisation of spring wheat (Triticum aestivum) transformed with rice PsbS gene, before completing her PhD in Photosynthesis and Photoprotection in Crops at the University of Nottingham, specialising in the improvement of photosynthesis through photoprotection in wheat and rice. Here, she also served as a lab technician overseeing lab and growth room facilities.
CC focused her academic research on plant canopies physiology and crop plants in different research environments (covering field, greenhouse and tropical glasshouse, controlled chambers and walk-in growth rooms) using different mediums of hydroponic, hydroleca clay, pot, tub and growth tank.
She has previously taught in student workshops and also worked as a research technician with Verdesian Life Sciences on a foliar biostimulants project and with Azotic Technologies, looking at the effects of nitrogen fixing bacteria on photosynthesis in rice plants. She has also worked on numerous collaborative projects with global institutes including CIMMYT in Mexico; Lancaster University, CSIRO based in Australia and NIAB in the UK.
"I am delighted to welcome CC who has the talent, experience and drive we need to take us to the next stage of LST's strategic objectives in indoor farming and help build on the ongoing momentum we are currently experiencing", says Simon Deacon, CEO of LST. "We are excited to utilise her expertise alongside further developing our award-winning technology to revolutionise agriculture and indoor growing."
"I am thrilled to join LST at a time of such ambitious growth", comments CC. "COP26 has highlighted the urgent need for us all to switch to a way of sourcing food that is sustainable and reliable, and through the use of AgriTech, has reinforced the benefits and potential it will bring over the next few years. To be able to harness my knowledge in crop science to create a more sustainable world is incredibly motivating and LST sets up the perfect opportunity."
ENDS
Editor's notes:
About Light Science Technologies Holdings plc
Light Science Technologies Holdings plc is the holding company of the Group's controlled environment agriculture ("CEA") division, Light Science Technologies Ltd ("Light Science Technologies"), and its contract electronics manufacturing ("CEM") division, UK Circuits and Electronics Solutions Limited ("UK Circuits").
Further information is available at: www.lightsciencetechnologiesholdings.com.
Controlled Environment Agriculture
Light Science Technologies was founded in 2019 and is the Company's grow lights and sensor technology business, providing bespoke recipes and technologies tailored to customers' needs - with key targets including indoor, vertical, glasshouses, polytunnels and medicinal farming markets. The all-in-one CEA solution will include analysing customers' crop growing requirements to provide bespoke, low-energy and sustainable equipment.
Market drivers include food and water shortages in many parts of the world; growing global population; UK and other government policy encouraging sustainable and efficient growth methods; increased scrutiny of the effect of food production on climate change and the continuing transition away from processed foods.
For further information, visit: www.lightsciencetech.com.
Featured Product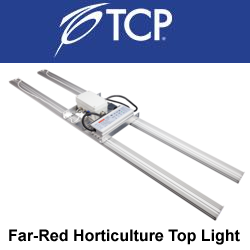 TCP's Far-Red Horticulture Top Light is available for growers that need to boost their overall crop size, yield, and photosynthetic rate without breaking the bank on energy costs or supplemental fixtures. It delivers up to 502 μmol/s of photosynthetic photon flux and high energy efficiency up to 2.29 μmol/J. It has a full spectrum that benefits vegetative and flowering growth, with a little extra kick.