12 November 2021, Derby, UK - AgriTech firm Light Science Technologies Ltd (LST) has announced the start of a project to develop a cloche lighting and sensor technology system for the controlled environmental agriculture (CEA) market, reducing the need for import substitution by extending the harvest window and increasing yields for indoor growers.
The contracted project, potentially worth up to £13.84 million* is with UK grower Zenith Nurseries Ltd and Morrish Engineering Ltd, and will focus on development of the new cloche product, which will be the first retrofittable, semi-automated, all-in-one lighting and sensor solution, providing year-round harvests for growers across multiple plant varieties in vertical farming, polytunnel and glasshouse environments.

Furthermore, the solution is intended to extend the use of LST's award-winning nurturGROW sensor to new market applications, such as agriculture fields.
With an initial potential UK market of 4,000 industrial growers, producing over 300 types of field-scale and protected vegetable and salad crops, and tree and berry fruits, the solution will aim to improve productivity by increasing yields. It will look to help growers by providing a possible solution to labour shortages and reduce the need for import substitution by extending the harvest window.
Simon Deacon, CEO of Light Science Technologies, commented: "The development of the LED grow lighting cloche solution is an exciting progression in our product portfolio. We are delighted to be working with growers in the development of tailored supplementary hybrid lighting (LED and natural light) system providing targeted, actionable data insights of the nine cardinals of plant life and soil health, based upon the data collected.
"We are in the midst of an extremely buoyant period of growth for LST, having last month floated on the London Stock Exchange. We have a growing number of routes to increased commercialisation and believe that we are well placed to scale up rapidly."
Tony Newell-Griffiths of Zenith Nurseries said: "Land is becoming ever scarcer so for each square metre of land we need to have as much product as possible. The project we're developing with LST is about maximising the usage of our polytunnels and greenhouse structures to enable increased yield per square metre and define predictability of crop. Instead of being able to grow for just five months of the year, production levels will increase to ten months of the year through having the use of moving cloches, so we can boost the amount of crop to summer levels in the shoulders of the season.
LST are providing us with a full end-to-end service right from the consultation through to research and design, then right through to manufacturing and testing. The reason we chose to work with them was purely based on a deep sense of trust in their capabilities and as a result, we were very keen to get involved with the project."
There are strong prospects for the indoor farming technologies market over the next four years, as the CEA market is poised to grow by $624.28 million during 2021-2025, progressing at a CAGR of almost 9% during the forecast period, with reduction in pollution and deforestation said to be driving growth.
*Source: subject to specific milestones and conditions as more fully described in LST's flotation announcement on 15 October 2021
ENDS
Editor's notes:
About Light Science Technologies Holdings plc
Light Science Technologies Holdings plc is the holding company of the Group's controlled environment agriculture ("CEA") division, Light Science Technologies Ltd ("Light Science Technologies"), and its contract electronics manufacturing ("CEM") division, UK Circuits and Electronics Solutions Limited ("UK Circuits").
Further information is available at: www.lightsciencetechnologiesholdings.com.
Controlled Environment Agriculture
Light Science Technologies was founded in 2019 and is the Company's grow lights and sensor technology business, providing bespoke recipes and technologies tailored to customers' needs - with key targets including indoor, vertical, glasshouses, polytunnels and medicinal farming markets. The all-in-one CEA solution will include analysing customers' crop growing requirements to provide bespoke, low-energy and sustainable equipment.
Market drivers include food and water shortages in many parts of the world; growing global population; UK and other government policy encouraging sustainable and efficient growth methods; increased scrutiny of the effect of food production on climate change and the continuing transition away from processed foods.
For further information, visit: www.lightsciencetech.com.
Featured Product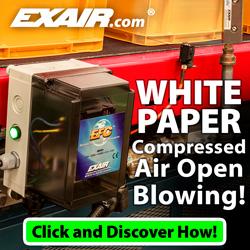 Compressed air is a limited resource that is generated in-house for the benefit of many operations within the manufacturing environment. Learn how to ensure all point of use applications are using your compressed air in the most effective and efficient way possible. Learn how much it costs to produce that compressed air and how Engineered Nozzles can help you use your air more effectively and efficiently.