Beta Bugs Ltd announces the launch of a new insect farming industry publication, Beta Buzz.
Edinburgh, Scotland, November 01, 2021: Beta Buzz was launched by Beta Bugs Ltd to shine a light on the ever-growing insect farming industry. As firm believers in a horizontal supply chain, coupled with sector specialization, Beta Bugs Ltd saw an opportunity to help the sector address some of the questions regarding the farming of the Black Soldier Fly for new entrants into the market and farmers who want to diversify into the insect farming industry and supply an alternative, sustainable source of feed to their animals.

Climate change and global heating have recently come to the fore, especially due to COP26, which is the 2021 United Nations Climate Change Conference held in Glasgow this year. Many believe that urgent action is required to reduce emissions to avert the growing climate crisis. The insect farming industry is helping to combat three major areas contributing to our damaged climate: food waste, deforestation, and carbon emissions.
Insect farming involves breeding, rearing, and harvesting insects which can be used for a number of purposes, including a protein rich ingredient for animal feed. Adopting insects as feed plays a role in cultivating a circular economy approach in food production, while vastly improving the sustainability and self-sufficiency of the aquaculture and livestock sector globally.
Many businesses and individuals are now working with or joining the insect farming sector as it becomes more readily accessible. In doing so, they are able to help reduce the immense amount of food waste going to landfill - which in the UK alone amounts to 9.5 million tonnes per year. Farmers can also reduce a wide range of agricultural wastes on-site by feeding it to the Black Soldier Fly. Using these locally produced insects reduces the need for using soy in animal feed (85% of farmed soy is used in animal feeds). Growing soy requires precious resources like land and water, fuelling deforestation and habitat conversion in critical ecosystems, further contributing to climate change, whereas black soldier fly have been shown to produce a minimum of 150x more protein per hectare, whilst requiring less water.
The relationship between the climate and our food is interdependent. As the food chain moves towards reducing its significant carbon footprint (16.5% of Global GHG emissions) through localized food and feed production, by farming insects we can create a more resilient, circular, and sustainable food system that preserves biodiversity and helps the agri-food sector reach net zero.
This is where Beta Buzz comes in! For the first issue, Beta Buzz focuses on the technology suppliers who can facilitate the set-up and running of insect farming operations, helping to improve on-farm performance or to help with progressing to the next stage of scale. This issue of Beta Buzz also includes the current membership bodies for each main region, who are important sources of regional best practice, regulations, and specific developments in the insect farming industry.
"As our industry develops, it needs to become more open and communicative. For us, Beta Buzz is one way to facilitate this communication. In this way, new market entrants, whatever their size, are able to get a better grasp of our industry and get involved faster."
- Thomas Farrugia, Founder & CEO
Beta Bugs Ltd are an insect genetics company developing and distributing black soldier fly breeds to the insect farming sector. Founded in 2017 by Thomas Farrugia, the company is based at the Easter Bush Campus, a world-leading agri-food research, work, and study environment, just outside of Edinburgh, where it works on unlocking and disseminating the full genetic potential of insect farming.
For further enquiries on Beta Buzz please contact Nicola Gardner, Creative Marketing & Media Officer - nicola@betabugs.uk
View blog here: https://www.betabugs.uk/wp-content/uploads/2021/11/BETA-BUZZ-ISSUE-1.pdf
Featured Product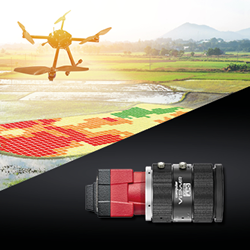 Allied Vision's compact and light weight Alvium SWIR (short wave infrared) cameras are the ideal choice to build cost-effective OEM systems used in embedded and machine vision applications. The cameras support a spectral range from 400 nm to 1700 nm at high quantum efficiencies. This allows to capture images in both the visible and SWIR spectra with a single camera and enables users to reduce overall system costs! Equipped with Sony's IMX990 and IMX991 SenSWIR InGaAs sensors, Alvium SWIR cameras deliver high image quality and frame rates. This makes them well suited for drones or handheld devices used in various industries such as, agriculture, mining, solar cell inspection or medical.