The aim of the trials is to improve the quality, consistency and sustainability of tomato plant propagation.
Commercial greenhouse growers La Serra and indoor farming technology provider LettUs Grow have partnered to conduct innovative tomato propagation trials. The first aeroponic trials were conducted in LettUs Grow's aeroponic research centre in Bristol and the first round of transplants are now being monitored in La Serra's greenhouses in Pershore. The aim of the trials is to improve the quality, consistency and sustainability of tomato plant propagation.

La Serra are a winter grower and currently harvest tomatoes nine months of the year. By working with LettUs Grow, they're aiming to extend their harvesting season by allowing their picking to start earlier in the year. LettUs Grow's aeroponic technology allows crops to grow up to twice as fast as hydroponic systems, which are more often seen in greenhouse settings.
Aeroponics is a method of growing plants without soil. Instead, plant roots are suspended in the air and irrigated with a nutrient-dense mist. Being able to control nutrient amounts and boosting access to oxygen levels results in much healthier plant root stock, which can accelerate early plant growth. Aeroponics also uses far less water than both outdoor and hydroponic growing systems.
The transplants were cultivated from seed using LettUs Grow's aeroponic system in a fully controlled vertical farm environment. After approximately 30 days in aeroponics, when first flowering trusses were visible and the stems were approximately 30cm tall, the crops were transplanted into the La Serra greenhouse. When transplanted into the greenhouse they were moved onto an hydroponic nutrient film technique system. LettUs Grow's transplants will be compared against La Serra's standard transplants inside the greenhouse. Plant relative performances are being compared and monitored closely.
These commercial greenhouse trials follow on after LettUs Grow partnered with Harper Adams University to research different technologies and irrigation systems within greenhouse and vertical farming settings.
The first trial is showing good results, with an impressive rate of root growth in the transplants from the aeroponic system. Nick Arnst, General Manager at La Serra says "the plants that arrived from LettUs Grow had significant root development when compared to our conventional propagated plants. For us the root system is key in the setting up of our crops for the year, and the aeroponic system developed by LettUs Grow has shown the benefits of strong healthy roots."
There has also been evidence early on that LettUs Grow's aeroponic technology has reduced propagation time, which could result in more harvests per year for tomato growers using the system. Currently, the greenhouse farming industry uses 40,000 ha of land globally, estimated to be increasing 5% per annum, so improving the efficiency and environmental impact of growing on this scale would have a huge impact on global food production.
Charlie Guy, CEO and co-founder of LettUs Grow, says "utilising aeroponic technology within different greenhouse and propagation settings could really increase the amount of food we can produce in greenhouses, whilst also using less resources. Boosting food security and the UK's ability to grow crops such as tomatoes would also reduce our dependence on imports."
You can find out more about the work of La Serra and LettUs Grow on their websites.
www.laserra.org.uk
www.lettusgrow.com
Featured Product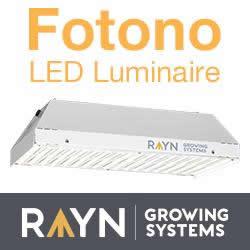 Fotono is a full spectrum LED horticultural luminaire designed to directly replace HPS lights in greenhouses. At 12 pounds, 20 inches long, and 5 inches high, Fotono's compact size makes installation simple while minimizing structural burden on greenhouses. This compact fixture packs energy-saving and yield-improving features, such as a high output, stepless dimming, advanced spectral capabilities, and more.