New addition to the UK-based CEA farming start-up's scientific research team
Leading AgriTech start-up Light Science Technologies (LST) has enhanced its pool of scientific expertise by announcing the appointment of Dr. Chris Adams as its new Plant Scientist and Specialist in Sensor Development, to further advance its research and analytical capability in optimised plant performance in controlled environment agriculture (CEA).

In his new role, Dr. Adams will work closely with the company's team comprising in-house scientists and top-level industry specialists to drive innovation in polytunnel, glasshouse and vertical farming from its new onsite lab facilities.
He joins LST with 10 years' academic experience in the biological field, including a PhD in Plant Biochemistry and Bioinformatics from Imperial College London, where he also worked as Research Assistant. He has a Master of Science degree in Biochemistry from the Biomedical Research Centre, Sheffield Hallam University.
His credentials also include specialisation in remote sensing, where he has lectured as well as written several academic papers on the subject and conducted in-depth research on wheat and tomatoes.
The newly created position comes at a time of exponential growth for LST, as it steers new research and development in lighting and sensing technology for CEA applications including vertical farming, greenhouses and polytunnels.
Last year, the company was awarded Innovate UK funding as part of the Transforming Food Production (TFP) challenge, to support its collaborative partnership with Nottingham Trent University's research team to further develop its growing sensor technology and innovative transmission node.
It has also recently opened its purpose-built testing facility at its Derby site to replicate a grower's processes in CEA and test new crops in its controlled environment chambers managing key conditions such as wavelength and intensity of light, temperature, humidity, CO2, air speed, nutrient, dissolved oxygen, root zone temperature and water. As a 'world first', it is the only known laboratory of its kind that has been specifically designed to allow its scientists to continue working safely through a pandemic.
Utilising its collective scientific expertise and LST's integrated sensor technology, the team can harness historical and real-time data to help farmers and growers create the right recipe, while ensuring optimal plant productivity and yield.
Simon Deacon, CEO of Light Science Technologies said: "We warmly welcome Chris to the team and are relishing the prospect of working together to enhance our innovative, scientific-led approach to our work. His academic accomplishments speak for themselves; his scientific insights and proficiency in statistical analysis will undoubtedly play a key role in the advancement of our environmental technologies for indoor farming."
Dr. Adams commented: "As a company at the forefront of scientific research into ground-breaking agricultural technology, LST presents a great opportunity for me. What I'm driven by is the discovery of novel scientific information that will help improve the world as we know it. CEA and vertical farms have the potential to deliver solutions to urgent global issues concerning food production and climate change, including drastically reducing pesticide use, food transportation and agricultural water consumption, as well as lowering greenhouse gas emissions; LST is intently focused on helping to overcome these global challenges."
About Light Science Technologies
Light Science Technologies delivers lighting, science and research-proven plant monitoring technology and software in partnership with world-leading university research teams. We work across multiple indoor applications including vertical farming, greenhouses and medicinal plants, delivering the right solution no matter what environment. Our real time monitoring and control, links technicians, farmers, and facility managers with their crops to provide instant production enhancement data. Our integrated technology solution for Controlled Environment Agriculture (CEA) applications for next-generation scalable farming helps customers grow more with less. For further information, visit: www.lightsciencetech.com.
About Light Science Technology Holdings
Light Science Technology Holdings Ltd brings together market leading controlled environment agriculture technology (Light Science Technologies) and quality led UK based electronic manufacturing (UK Circuits and Electronics Solutions) to help our customers grow more with less. We specialise in creating and manufacturing bespoke solutions for global clients across agriculture, electronics, audio, automotive, AI technology and pest control industries.
Featured Product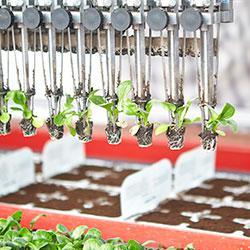 Monotone, repetitive movements of the hand can lead to chronic strain syndromes. Electric professional tools provide relief, such as "Pony" pruning shears. It is one of the most powerful products on the market with over 70 cuts per minute and a weight of only 770g. This is only possible with a drive that combines the highest efficiency with a compact lightweight design. Manufacturers of professional tools from around the world therefore rely on drive solutions from FAULHABER.