The company was also named a finalist in the Building/Infrastructure Project of the Year and Business of the Year categories
AeroFarms, the world leader in indoor vertical farming, today announced it won the Circular Economy Innovation of the Year from the EDIE Sustainability Leaders Awards.

Established in 2007, EDIE's Sustainability Leaders Awards highlight and recognize forward-thinking businesses and ambitious business professionals who go above and beyond in achieving environmental objectives and who deliver transformational change in society.
The Circular Economy Innovation of the Year award highlights the critical ways in which AeroFarms is addressing the global food crisis by building, owning and operating cutting-edge indoor vertical farms in the US and all over the world.
"By embedding sustainability into all that we do, from our operations to our business model to our final product, we aim to champion true transformational innovation for the agricultural industry," says AeroFarms Co-Founder & CEO David Rosenberg. "We are proud to be recognized by EDIE as a leader in sustainability and innovation. We also know that truly moving the needle on global sustainability cannot be accomplished by one company alone, and we applaud the many other companies recognized for their impact."
A certified B-Corp, AeroFarms is on a mission to disrupt traditional supply chains by building farms on major distribution routes and near population centers, significantly reducing carbon emissions incurred from leafy greens trucking and distribution. The company's environmentally controlled indoor farms can grow food all year round, independent of climate and weather events, with 390x the productivity of field farms per square foot.
AeroFarms designs its operations and business to embody circular and cradle-to-cradle thinking. Its aeroponic growing towers are a closed-loop system, recycling and using less water and nutrients while misting the roots of plants with targeted nutrients and water, as well as optimally oxygenating the roots. Because of this, AeroFarms can grow plants faster and more efficiently than in the field, with zero pesticides.
AeroFarms was also recognized as a finalist in Building/Infrastructure Project of the Year category for its buildout of a 90,000 square foot sustainable farm in Abu Dhabi, which, once completed, will be the world's largest of its kind. The farm will be dedicated to the research and development, and commercialization of local crops.
Finally, the company was named a finalist for Business of the Year, with the recognition highlighting AeroFarms' multidisciplinary team of growers, scientists and technologists, who are setting a new standard for totally protected agriculture from seed to package, growing safe, nutritious, fresh food in a sustainable and socially responsible way while championing circular design and cutting-edge science.
About AeroFarms
Since 2004, AeroFarms® has been leading the way for indoor vertical farming and championing transformational innovation for agriculture overall. On a mission to grow the best plants possible for the betterment of humanity, AeroFarms is a Certified B Corp Company with global headquarters in Newark, New Jersey, United States. Named one of the World's Most Innovative Companies by Fast Company two years in a row and one of TIME's Best Inventions, AeroFarms patented, award-winning indoor vertical farming technology provides the perfect conditions for healthy plants to thrive, taking agriculture to a new level of precision, food safety, and productivity while using up to 95% less water and no pesticides vs. traditional field farming. AeroFarms enables local production to safely grow all year round for its commercial retail brand Dream Greens® that has peak flavor always.® In addition, AeroFarms has developed multi-year strategic partnerships ranging from government to major Fortune 500 companies to help them uniquely solve their agriculture supply chain needs. Please contact us at info@aerofarms.com to learn more about how you can work with AeroFarms.
Featured Product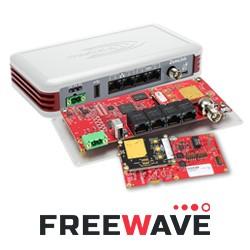 Making the most of IIoT in agriculture means making sure all data from the field can be readily accessed and acted upon, no matter where it is remotely generated. FreeWave has the solutions to power your precision farming systems, combining sensor data capture, IQ edge data processing, and network communications in the ways that meet your unique demands and enable you to easily uphold compliance as regulatory pressures rise.