The food technology industry is on the cusp of a revolutionary change with the launch of a sustainable range of Textured Vegetable Protein (TVP) and packaging products to tackle the world's environmental problems.
The food technology industry is on the cusp of a revolutionary change with the launch of a sustainable range of Textured Vegetable Protein (TVP) and packaging products to tackle the world's environmental problems.

UK-based Zehnder Technologies is already producing and exporting high-quality TVP made from sunflower while it finalizes the commercialization for compostable disposable packaging.
The company is currently raising capital for the final stages of branding, legal and R&D components and expects to release the packaging range in mid 2021.
Led by Josef Zehnder, former executive of Australia's Byron Bay Cookie Company, the company is backed by his 30-plus years of experience in food manufacturing innovation and a number of experts in the food technology and business sectors, including former executive of activewear brand lululemon, Alexie O'Brien.
Mr Zehnder said his products will reshape both the $1.5 trillion meat market and the $85 billion fast food packaging sector.
"We are long overdue for a change to outdated meat alternatives such as soy, pea and wheat whose production models haven't improved since the 1970s, and our technology enables this," he said.
"Interestingly, it's not the vegetarian or vegan market looking for new answers. Recent statistics show the majority of consumers looking for a drastic change are generation-X meat-eaters with serious concerns around health and the environment.
"The production of soy is extremely damaging to the environment, using up large areas of land mass and water, resulting in deforestation and existing on the market as a highly refined product.
"Our TVP products are made from sunflower, are firmer and more nutritious than most already in the market and have little to no difference in taste or texture bite than regular meat foodstuffs. We see this as a unique feature of our product.
"This is the first real innovation in the meat substitute market since it began and provides a better outcome for the consumer and the planet."
The company's TVP product has been in the European market for over six months as a white label product with production expected to reach 120 tonnes a month by early 2021.
A FMCG brand, Botany Fields, will be launched in December this year and will be distributed across retail, food service and supermarket sectors.
Zehnder's packaging arm, ZehnPak, is also finalizing the commercialisation of its patented solution for compostable disposable packaging
The technology aims to disrupt the global takeaway disposable packaging market, including coffee and drinking cups, cutlery, plates, and fresh food wrapping, which can be made at a lower cost in mass production than current packaging on the market.
"With an estimated 500 billion plus non-recyclable disposable packaging products choking waterways, landfill and oceans, we have a solution to change the way waste is disposed. It will be composted and create new soil.," Mr Zehnder says.
"Our packaging does not utilize chemicals, plastics, or coatings and uses less water than recycled paper and the raw materials we use are low cost and available in industrial quantities. Our standard base grade product is able to hold liquid for 72 hours, without a plastic liner. Our edible products also do not contain trees
"Best of all it breaks down and starts to decompose within a week leaving no residuals in the environment - it's so safe you can eat it."
The company's TVP arm is expected to commence retail supply at scale by April with a
European manufacturing facility already in progress and targeted for completion by June 2021.
Product development for its compostable packaging will be finalized by April with product sales expected to commence by June and a European manufacturing facility completed by September 2021.
For more information visit www.zehndertech.com
Featured Product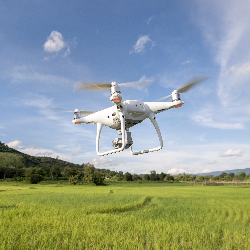 This is today's agriculture: Tractors drive autonomously and the cultivation of fields can be carried out precisely and plant-specifically. Drones record the condition of the soil and crops from the air. Robots assist in milking, feeding, and monitoring animals. MVTec's machine vision software helps farmers realize these and other applications and confidently face many of today's modern agriculture challenges.