Mahindra and Mahindra(M&M) is a well-known name in the history of Indian Industries. Mahindra and Mahindra, the India based Multinational company is the best example of saying that "You can turn yourself into anything that you can imagine". Mahindra Group has tried their luck in almost 22 fields and due to their work ethics and mindset, they have gained success in all. Mahindra Tractors which is part of the Farm Equipment sector is one of their ruling fields with sales in 40+ countries with 1000+ dealers across the globe.
MAHINDRA 575 DI TRACTOR

Mahindra 575 DI is a tractor that comes with a powerful 4 cylinder engine. Its engine capacity is 2730 cubic centimeters(CC) and rated with 1900 rpm. Mahindra 575 DI comes with partial constant mesh transmission with 8 forward and 2 reverse gears. Mahindra 575 also offers oil-immersed braking system as an option to the farmers. Mahindra 575 has dual-type clutch system. Mahindra 575 DI's lifting capacity is 1600 kg. For the driver's comfort Mahindra 575 DI also comes with power steering as an option. It has impressive fuel tank capacity of 47.5 liters. Its front Tyre size is 6.00x16 and the rear Tyre size is 13.6x28, and 14.9 as optional. Mahindra 575 DI can be used for various applications like Disc Plough, Single Axle Trailer, Harrow, Tipping Trailer, Half Cage Wheel, Seed Drill, Thresher, Cultivator, Water Pump, Gyrovator etc. Mahindra 575DI is among india's most selling tractor and preferred by most of the farmers in india.
MAHINDRA 475 DI TRACTOR
42 HP
Mahindra 475DI is among India's most selling tractor and known for its low maintenance and high-performance mong farmers. Mahindra 475 DI is a tractor with 4 cylinders advanced engine which offers 1900 rpm of power and a long engine life with unique KA-technology. Mahindra 475 DI comes with a partial constant mesh transmission system that allows smooth and easy gear shifting operation which in turn ensures a longer life for the gearbox and less driver fatigue. It consists of advanced and high precision hydraulics specially used for modern implements like Gyrovator(rotavator), cultivator, etc.
MAHINDRA YUVO 275 DI TRACTOR
35 HP
Mahindra Yuvo 275 DI is a 35 hp tractor that comes with more backup torque, adjustable deluxe seat, 12 front + 3 rear gears, a powerful 3 cylinder engine with enhanced cooling system, advanced control valve, modern constant mesh transmission, 1,500 kg lift capacity and large air cleaner and radiator. It can perform more than 30 applications such as Genset, harrow, water pump, and thresher that make it a versatile tractor. Mahindra Yuvo 275 DI price is slightly more as compared to Mahindra Yuvo 265 DI. Mahindra Yuvo 275 DI - Engine Dumdaar The Mahindra Yuvo 275 DI has a 2235 CC engine, the engine is amazing.
read more at -
https://tractorgyan.com/tractor/mahindra-yuvo-275-di/35
MAHINDRA 265 DI BHOOMIPUTRA TRACTOR
30 HP
Mahindra 265 DI tractor this tractor is made by Mahindra Tractor Manufacturer. This post contains all the data about the tractor like Mahindra 265 DI rate, Engine Specifications, and some more. Mahindra 265 DI Tractor Engine Capacity Mahindra 265 DI motor limit is 2048 cc and has 3 chambers creating motor appraised RPM 1900 and Mahindra 265 DI hp is 30 hp. It has a water-driven lifting limit of 1200 kg and Mahindra 265 DI mileage is practical in each field. Mahindra 265 DI has 8 Forward + 2 Reverse rigging boxes. Mahindra 265 DI Price Mahindra 265 di cost 2020 is moderate and suitable for the Indian ranchers. For more data in regards to Mahindra 265 DI cost in India 2020, stay tuned with Tractorgyan.
MAHINDRA 585 DI SARPANCH TRACTOR
50 HP
Mahindra 585 DI sarpanch is a 50 hp tractor from Mahindra that gives unmatched power and optimum performance to the farmer. Mahindra 585 di sarpanch comes with a four-cylinder water-cooled engine. This tractor offers 8 forward and 2 reverse gears with the partial constant mesh transmission system, that smoothens the overall gear change operations. With its oil-immersed brakes, this tractor offers strong and durable braking performance. Mahindra 585 DI sarpanch has a bigger size 56-liter fuel tank capacity that ensures uninterrupted fuel supply and nonstop work. Mahindra 585 DI sarpanch tractor offers multiple speed options that make it suitable for different kinds of farming tasks and haulage operations. Mahindra 585 DI sarpanch is installed with powerful hydraulics that gives it an amazing lift capacity of 1640 kg.
Featured Product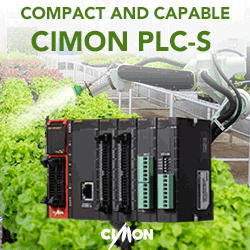 CIMON-PLC is an industrial control device based on international standards of IEC61131. It is designed for a plant site that requires industry-leading reliability. CIMON-PLC is optimized for Industry 4.0 and enhances the intelligence of industrial sites.