CCI, is a non-profit organization with public and private capital focused on the agribusiness sector in Colombia, partners with Latin Leap, a venture capital fund focused on opening opportunities in Latin America for Asian technology companies. ● The partnership adds confidence and progress to a vital sector of the Colombian export economy, which has been increasingly gaining the attention of international agtech companies
Colombia signature in this July 2020 and agreement between Corporación Colombia Internacional - CCI with Latin Leap Venture Fund to attract international tech companies in the agri-food industry interested in engaging in Colombia's agricultural sector.

CCI was founded in 1992 as non-profit organization with public and private participation. Experts in to support strength current for local market development strategies with value chain for small, medium and big producers of fruits, vegetables, cocoa, specialized coffees, fish and cattle.
CCI offers services based on its MACS methodology (Sustainable and Competitive Agribusiness Models) as an integral approach to support and advise farmers more than 700 thousand farmers and families of rural area. CCI's main focus is on the development sustainable models with a true impact in the local communities.
According to Adriana Senior, President of CCI, "In Colombia, CCI is the best partner to introduce Asia's experience to improve Colombia's agribusiness development. We are very pleased our agreement with Latin Leap, because we believe the way is to introduce proved foreign agriculture technology and apply to Colombia's companies developments."
Latin Leap is a venture capital fund that was established to create an investment platform to facilitate the soft landing of tech companies in Latin America. In particular, Latin Leap focuses on connecting tech companies from Asia to the emerging markets of Latin America. Agtech is a core vertical for Latin Leap.
According to Stefan Krautwald, General Partner of Latin Leap, "The partnership with CCI is yet another step forward in creating a soft-landing network of institutions to facilitate market entry of global agtech companies in Colombia and Latin America. The global Covid19 crisis has shown the necessity to strengthen resilience in the agrifood and food supply chain sectors.
From the lush rainforests of the Amazon to the majestic Andean peaks, the varied topography and diverse climate of Colombia allow for a thriving agri-food sector that presents many opportunities to agribusinesses.
According to the United Nations Food and Agriculture Organization (FAO), Colombia receives the most rainfall of all the Latin American countries and is one of the top 10 countries in the world for precipitation. 40.3% of Colombia's territory is also covered by arable land. The agriculture sector experienced a continued growing and the last years agriculture contribute 9% of Colombia's GDP.
Despite the favorable natural conditions for the growth of the agri-food sector in Colombia, the industry still suffers from structural weaknesses and underdeveloped technologies. According to DANE, around 66.7% of producers do not use any irrigation system and 83.5% do not have access to technical assistance. This is presenting a huge opportunity for agtech ventures to step in and fill a gaping hole in Colombia's agri-food sector that is hungry for innovative solutions to drive its growth.
CCI
Is a nonprofit organization founded in 1992 with private and public capital that aims to support, promote, and develop Colombia's agricultural activity. CCI believes in an agricultural sector that is inclusive, productive, and profitable. They work to generate an impact and create stories in the lives of Colombian farmers, and to implement agribusiness projects that are productive, competitive, and profitable. CCI aims to develop a comprehensive platform to support the growth and social inclusion of Colombia's agricultural sector.
Latin Leap
Is a venture capital fund that was established in 2019 to create a unique impact investment platform to soft-land purpose-driven tech companies in Latin America. Through strong human and financial commitment, Latin Leap hopes to provide international tech scale-ups with access to essential resources for successful deployment in Latin America. They aim to contribute to quality education in Latin America by fostering the growth of knowledge-intensive businesses in the region. From the lush rainforests of the Amazon to the majestic Andean peaks, the varied topography and diverse climate of Colombia allow for a thriving agri-food sector that presents many opportunities to agribusinesses and agtech ventures alike.
The main pursuits of Latin Leap VC Studio include:
1. Impact Investment: Latin Leap has identified an investment sweet spot in purpose-driven companies with a proven product-market fit in global tech hubs. A strong investment focus has been placed from Singapore due to Latin Leap's strong ecosystem relationships in the market. Latin Leap is an agnostic fund, but core verticals include Agtech, Edtech, Fintech, Healthtech, HR tech, and Mobility tech.
2. Soft-landing: Latin Leap is positioned to operate at levels of efficiency characteristic of tech-based companies. By offering preferred access to corporate partnerships and experienced venture partners who serve as gatekeepers of the Latin American market, Latin Leap aims to help tech companies establish a unique geographical footprint in the region through the testbed market of Colombia.
MEDIA LINKS
Latin Leap VC Studio
Web: https://latinleap.vc/
Contact: softlanding@latinleap.vc
Corporación Colombia Internacional
Web: http://www.cci.org.co/inicio/
Contact: armandocampo@cci.org.co
Featured Product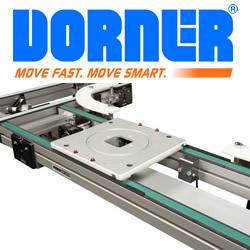 Dorner's 2200 Series Precision Move Pallet Systems are ideal for assembly automation. With features such as an innovative timing belt conveyor design and industry best pallet transfers, they get your product to the exact location, at the exact time and in the exact position it needs to be. They are now available with new options such as heavy load corner modules with 150 lb. capacity and 180 degree tight transfer corners for compact loops.