Premium produce from state-of-the-art hydroponic greenhouse in Lake Worth is grown free from GMOs and contaminants
Lake Worth, FL (December 5, 2019) - Premium produce from Green Life Farms, an innovative commercial-scale hydroponic grower in Lake Worth, is now available in grocery stores across the east and west coasts of southern Florida, including in Boca Raton, Coral Springs, Deerfield Beach, Hollywood, Miami, Naples and Sanibel. Green Life Farms cultivates, harvests and packages its produce in a food-safety-focused environment to create the freshest, cleanest greens with no GMOs or contaminants.

Green Life Farms' sustainably grown products include Baby Spinach, Baby Arugula, Baby Kale, Baby Romaine, Red Romaine Mix, Southern Style Greens and Gourmet Asian Blend.
"For Florida consumers seeking another healthy option, we provide premium baby leafy greens, grown without soil in an enclosed environment, year-round," said Elayne Dudley, Sales Director, Green Life Farms. "Customers will taste the difference when they try our fresh baby leafy greens because our produce is grown around the corner, not across the country, and they will rest assured that the delicious greens are free of harmful contaminants."
Green Life Farms' process combines technology with agricultural best practices to grow premium baby leafy greens. Its flavorful produce is cultivated without soil in clean, nutrient-rich oxygenated water, using natural sunlight and airflow in state-of-the-art greenhouses. The greens are harvested hands-free and packaged in a controlled environment to create the freshest, cleanest greens all year round. Green Life Farms grows approximately 700,000 pounds of premium leafy green produce annually in Lake Worth, with more farms planned.
Green Life Farms products are currently available in more than a dozen grocery stores. For a complete list of locations see below or visit the Find Us Locally section of Green Life Farms' website:
• A.J. Seabra Supermarket, Deerfield Beach
• Aroma Market (Kosher), Boca Raton
• Bailey's General Store, Sanibel
• Bay Supermarket, Miami Beach
• Bravo, Coral Springs
• Bravo, Mirimar
• Bravo, Hollywood
• Broward Meat & Fish, Pembroke Pines
• Don Victorio's Market, West Palm Beach
• Laurenzo's Farmers Market, Miami
• Palm City Farms Produce & Market, Palm City
• Presidente Supermarket #38, West Palm Beach
• Price Choice, 1851 NE 2nd Ave, Miami
• Sabal Supermarket, Miami
• Victoria Green Market, Palm Springs
• Wynn's Market, Naples
For more information about Green Life Farms, visit GreenLifeFarms.ag. Please contact Elayne Dudley at Elayne@GreenLifeFarms.ag for sales and Raymond John at Ray@GreenLifeFarms.ag for investor relations.
Featured Product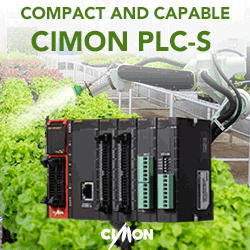 CIMON-PLC is an industrial control device based on international standards of IEC61131. It is designed for a plant site that requires industry-leading reliability. CIMON-PLC is optimized for Industry 4.0 and enhances the intelligence of industrial sites.