Energy-efficient greenhouse company, Ceres Greenhouse Solutions, will join other greenhouse companies and affiliates at this year's Canadian Greenhouse Conference in Niagara Falls, Ontario, Canada.
The Canadian Greenhouse Conference is a not-for-profit corporation that boasts itself as Canada's top networking event for commercial growers who produce food in controlled environments. Growing experts and greenhouse professionals from all parts of the world will gather to showcase their innovative production methods and to learn about new greenhouse technologies. The Canadian Greenhouse Conference will use any excess funds from the event to fund projects that support the Canadian greenhouse industry. There will be two days of informative sessions for attendees and over 200 greenhouse exhibitors.

Ceres Greenhouse Solutions is a design and engineering company that builds energy-efficient growing environments by combining passive solar design concepts and innovative climate control technologies. Ceres tailors their greenhouses to local wind and snow loads, making them a great solution for Canadian growers who live in cold climates. The sun-harvesting capabilities of an insulated Ceres Greenhouse allows for increased solar gain year-round; even in the winter months. A Ceres GAHT™ (ground to air heat transfer) system helps maintain stable greenhouse temperatures by using the energy of the sun, and the thermal mass of the soil underground, to heat and cool greenhouses at a fraction of the cost of a traditional HVAC system.
In addition to greenhouse design and engineering, Ceres also partners with indoor agriculture investment companies, like Contain Ag, in order to help their clients finance their greenhouse projects. Just another way that Ceres makes sustainable food production more accessible for residential and commercial growers alike.
Ceres is eager to share their experience of designing and building greenhouses for colder climates at the conference.
Commercial greenhouse designers, Jim and Jaclyn, will be representing Ceres at booth 1254. If you already have plans to attend CGC and would like to schedule a time to meet with a Ceres representative during or after conference hours, please email info@ceresgs.com with your available meeting hours, a short company bio and your contact information.
Please visit CGC's website for more details on the event. And for more information on Ceres Greenhouse Solutions, visit their website, http://www.ceresgs.com or contact them directly.
Featured Product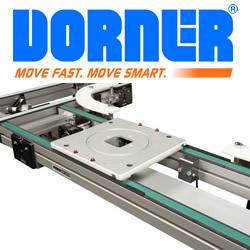 Dorner's 2200 Series Precision Move Pallet Systems are ideal for assembly automation. With features such as an innovative timing belt conveyor design and industry best pallet transfers, they get your product to the exact location, at the exact time and in the exact position it needs to be. They are now available with new options such as heavy load corner modules with 150 lb. capacity and 180 degree tight transfer corners for compact loops.