Registration now available for free Soil Health Symposiums to demonstrate the principles of soil health on Sept. 25th in Grand Rapids, Michigan and Sept 26th in London, Ontario
A&L Canada Laboratories ["A&L") is hosting the Soil Health Symposium Series to present the latest practical agronomic research that will be valuable to retailers, agronomists and farmers to help them increase the yields and productivity of their farms.

Presentations
Dr. James White, Jr., professor in the Department of Plant Biology at Rutgers University-New Brunswick, New Jersey who will share his research findings on Endophytic Microbes and Their Potential Applications in Crop Management Systems.
A&L Research Lab Director Dr. Soledad Saldias will highlight what the company has learned from its ambitious soil health research program - and what it means for commercial crop production.
A&L Founder and CEO, Greg Patterson will detail the new VitTellus™ Soil Health test and recommendation package. Based on eight years of research and field trials, VitTellus soil health index has shown a 90% correlation between certain soil health factors and crop yields.
The Soil Health Symposiums will be held both in Michigan, USA and in Ontario, Canada:
• 12:00 pm -5 p.m. Sept. 25 at the Crossroads Conference Center, Grand Rapids, Michigan
• 12:00 pm -5 p.m. Sept. 26 at Western Fair, Carousel Room, London, Ontario
Agenda (for both locations)
12 NOON - 1:00 PM Lunch & Refreshments
1:00 PM - 1:15 PM Welcome & Introductions
1:15 PM - 2:15 PM Soil Health Research Update - Dr. James White, Rutgers University
2:15 PM - 3:00 PM A&L Research on Soil Health - Dr. Soledad Saldias
3:00 PM - 3:15 PM Break
3:15 PM - 4:15 PM VitTellus™ Soil Health - Greg Patterson
4:15 PM - 4:45 PM Q&A, Refreshments
Attendance is free, so register early to secure your place!
www.alcanada.com/content/seminars/seminars-register-free
For more information call our office Toll-Free at 1-855-837-8347 or email alcanadalabs@alcanada.com.
If you are not able to attend this event, please drop by the A&L Labs exhibit at Canada's Outdoor Farm Show in Woodstock, Ontario, September 10-12, 2019, at booth #NM-142. Come and meet the team and visit with our agronomy experts and Greg Patterson, Founder and CEO.
About A&L
We are an innovative, research driven technology company focused on sustainable development. Through leading expertise, modern laboratory facilities and strong customer focus, A&L serves a wide range of industries including Agriculture, Environmental, Food & Pharma -- globally.
In Agriculture, A&L provides comprehensive analytical services for soil, plant tissue, feed, fertilizer, and water. A&L's services also include production recommendations, remote sensing and precision agriculture capabilities. A&L Biologicals Inc. focuses on research and development of biological compounds for use in agricultural production systems. The A&L Environmental division provides organic and inorganic chemistry and general chemistry using state of the art technology and methodology. For Food & Pharma, A&L provides analytical services for plant tissue, water, media and finished product. A&L's services also include disease diagnostics, genetic analysis, production recommendations, and Plant Monitoring Program. The company operates two world class analytical laboratories serving clients throughout Canada, the U.S. and Internationally.
Visit our website at www.alcanada.com.
Featured Product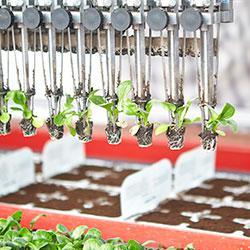 FAULHABER MICROMO launches the new MC3/MCS motion control family. The new high performance, intelligent controllers are optimized for use with FAULHABER motors, offer electronics for simple operation with state-of-the-art interfaces for multi-axis applications, and provide a motion control system solution with the most compact integration into industrial grade housing.