The Vertical Farming Market Report provides a complete market outlook and growth rate during the past present and forecast period.
New York, Jul 15, 2019: Vertical farming is a non-traditional way of growing crops in vertically stacked layers or integrated into other structures (such as in skyscraper or old warehouse) with minimal usage of pesticides, less area requirement, and less water consumption. It uses metal reflectors and artificial lighting to maximize natural sunlight.

Vertical farming is the urban farming of crops inside a building in a city or urban centre, where floors are designed to accommodate certain crops, as vertical farming creates an alternative source of sustainable food production units for urban needs and future generation.
Hydroponics is a process of growing plants without soil by using nutrient-rich solutions to feed the plants. In addition, it uses 70% less water as compared to open-field agriculture. Growing indoors can protect crops from environmental effects, such as increased global temperatures and drought, which can reduce the growth of the crop in some areas.
Get Sample with Latest Trends and Future Advancements (Use Corporate email ID to Get Higher Priority)
Various types of fruits, vegetables, and herbs such as tomato, lettuce, bell & chili peppers, strawberry, cucumber, leafy greens, herbs, etc., can grow with the help of vertical farming technique.
Currently, increasing demand for vertical farming, owing to its various factors such as increasing popularity of organic food, an increase in urban population, and a decrease in arable land across the globe. Growing population coupled with increasing awareness among people regarding efficient alternative farming and less accessibility to agricultural lands are considered as important factors in the market.
The global vertical farming market evaluated at a valuation of US$ 2,115.6 Mn in 2018 and is forecasted to grow at a significant CAGR of 25.7% over the next 10 years.
Rising consumer preference towards fresh, local, and organic food and increasing government initiatives to promote vertical farming will act as a lucrative opportunity to a certain extent. High initial investments and the development of new technologies are some challenging factors of the global market.
Vertical farming can be done by various types such as lighting, hydroponic component, climate control, and sensors. Lighting devices are the very important factor of vertical farming, as they help the growth of plants by working as a substitute for sunlight. It uses LED lighting system that produces a dual-band colour spectrum at a time and maintains efficiency and low heat dissipation. Lighting systems provides photosynthetic wavelengths in accordance with crop growth, thereby maximizing the crop yield and ensuring minimum power consumption. Thus, farmers prefer LED lighting systems as compared to other lighting technology for vertical farming.
Rising government initiatives and co-operation from private companies in the Asia Pacific can lead to high demand for vertical farming to a certain extent. Increasing awareness regarding environmental concerns, the alarming rate of water level depletion, and presence of drought-stricken areas across various countries in this region.
View Detailed of Vertical Farming Market Research Report, click the link Here:
https://market.us/report/vertical-farming-market
Government across various countries in Europe is taking initiatives regarding the expansion of small-scale and commercial vertical farms and growing awareness of innovative technologies in agriculture.
Some of the major players operating and profiled in the global vertical farming market report include AeroFarms, Gotham Greens, Bright Farms, Vertical Harvest, Home Town Farms, Infinite Harvest, Lufa Farms, Beijing IEDA Protected Horticulture, FarmedHere, Garden Fresh Farms, Metro Farms, Green Sense Farms, Mirai, Green Spirit Farms, Indoor Harvest, Sky Vegetables, Sundrop Farms, Ecopia Farms, Alegria Fresh, and TruLeaf.
Get More Agriculture Related Research Reports, Click here : 
http://abusinessintelligence.com/category/agriculture/
Featured Product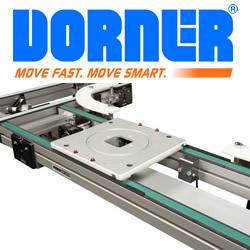 Dorner's 2200 Series Precision Move Pallet Systems are ideal for assembly automation. With features such as an innovative timing belt conveyor design and industry best pallet transfers, they get your product to the exact location, at the exact time and in the exact position it needs to be. They are now available with new options such as heavy load corner modules with 150 lb. capacity and 180 degree tight transfer corners for compact loops.