– Pure Sunfarms Expects Entirety of Licensed Area to be Planted by End of April 2019 and Remains Firmly on Track to Achieve Run-Rate Annual Production of 75,000 Kilograms by Mid-2019 –
Village Farms International, Inc. ("Village Farms" or the "Company") (TSX:VFF) (NASDAQ: VFF) today announced that its 50%-owned joint venture for large-scale, low-cost, high-quality cannabis production, Pure Sunfarms, received from Health Canada the seventh amendment to the cultivation license for its 1.1 million square foot greenhouse in Delta, BC (the "Delta 3 Facility"). This amendment permits Pure Sunfarms to expand its cannabis production area by approximately 206,000 square feet to a total of approximately 1.03 million square feet (16 grow rooms). With this amendment, the entire growing area at Pure Sunfarms' greenhouse is now licensed for cultivation. The newly licensed area is expected to be planted by the end of March 2019.

Village Farms also announced that Pure Sunfarms has, as planned, commenced re-planting of Quadrant 1 of its greenhouse following the planned suspension of production last autumn to install the infrastructure for supplemental lighting to maximize yields in the winter months. The Company expects Quadrant 1 to be fully planted by the end of April 2019, at which time Pure Sunfarms will be in production on the entire 1.03 million square feet of growing area at its facility, making it one of the largest fully operational cannabis production facilities in the world. Pure Sunfarms continues to expect to achieve full run rate annual production for its 1.1 million square foot greenhouse facility of 75,000 kilograms by mid-2019.
"It is a monumental achievement for Pure Sunfarms to complete its cultivation licensing of more than 1 million square feet and, very shortly, be in full commercial production - just over a year from receiving initial approval from Health Canada to begin growing," said Michael DeGiglio, Chief Executive Officer, Village Farms. "Pure Sunfarms has rapidly become one of the largest cannabis operations in Canada and is establishing itself as a reliable, large-scale supplier of quality, safe cannabis products to the Canadian market which continues to be challenged by a shortage of supply. With thousands of kilograms harvested, the Pure Sunfarms facility continues to perform well, with yield and quality of the product continuing to meet or exceed our expectations, and the team continues to execute on plan."
With licensing of the entirety of the Delta 3 Facility cultivation area completed, the option periods that Pure Sunfarms holds on the two additional Delta greenhouse facilities, currently owned and operated by Village Farms, has commenced. If these two options are exercised by Pure Sunfarms the additional total production area could be increased by approximately 3.7 million square feet.
"The two options on the additional Delta greenhouses provide Pure Sunfarms with the opportunity to significantly expand production to address market demand," added Mr. DeGiglio. "Village Farms continues to be, as it has since Pure Sunfarms received its initial cultivation license a year ago, in full support of Pure Sunfarms expanding its production beyond the initial Delta 3 facility as rapidly possible."
About Village Farms International, Inc.
Village Farms International, Inc. is one of the largest and longest-operating vertically integrated greenhouse growers in North America and the only publicly traded greenhouse produce company in Canada. Village Farms produces and distributes fresh, premium-quality produce with consistency 365 days a year to national grocers in the U.S. and Canada from more than nine million square feet of Controlled Environment Agriculture (CEA) greenhouses in British Columbia and Texas, as well as from its partner greenhouses in British Columbia, Ontario and Mexico. The Company is now leveraging its 30 years of experience as a vertically integrated grower for the rapidly emerging global cannabis opportunity through its 50% ownership of British Columbia-based Pure Sunfarms Corp., one of the single largest cannabis growing operations in the world. The Company also intends to pursue opportunities to become a vertically integrated leader in the U.S. hemp and CBD markets, subject to compliance with all applicable U.S. federal and state laws, and has established a joint venture, Village Fields, for multi-state outdoor hemp cultivation and CBD extraction.
Featured Product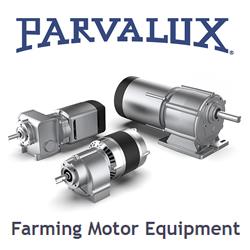 British-made farming motors at Parvalux are available off-the-shelf, customizable or as a fully customized 'from scratch' solution, enabling you to tailor a geared motor to your precise requirements. Whether you require a specific shaft length or material, dynamic braking or another one of our customization options, we'll help you make sure your customers' farms run like clockwork.