AI technology geared to reducing 1.3 Billion tons of food waste annually
We are thrilled to announce AgShift as the newest addition to our portfolio of high performing start-ups. "AgShift technology is revolutionary and is setting standards in visual inspections & quality assessments through AI and Deep Learning. We believe in Miku Jha, founder and CEO of AgShift; her vision and the team to take this company through this exciting journey," shared Vikas Datt, Managing Director of CerraCap Ventures.

"In Agro-tech, there is hardly any company that is embarking on the journey to change the landscape of food inspection. AgShift offers a completely unbiased, objective, quality assessment for commodities, protecting the quality, sourcing, pricing and brand - every single time." - Ritesh Agarwal, Managing Director at CerraCap Ventures
"For young technology startups in food technology - one of the key challenges is accessing the right advisors, stake holders and strategic partners in the food supply chain. Technology startups have a tough time maneuvering through this complex ecosystem. In this regard, partnership with CerraCap Ventures has been instrumental for us. They have helped us open the doors with their existing network and right sponsors, at the right time. Their belief and support in our overall vision is truly encouraging. We are extremely pleased to have a strategic partner in CerraCap Ventures," said Miku Jha, CEO and founder of AgShift.
About AgShift
AgShift Inc., is a deep learning technology start-up working on designing world's first autonomous food inspection system. AgShift's software blends patented Deep Learning models with Computer Vision to make food inspections autonomous, consistent and standardized at scale. AgShift is empowering the world's largest agriculture and food organizations to reduce global food loss and waste. AgShift Inc. is based out of Silicon Valley, California, and its core team has extensive experience across the food and technology industries - with professional tenures at VMware, Intel, IBM and Topco. For more information, visit http://www.AgShift.com.
About CerraCap Ventures
CerraCap Ventures is a Global fund headquartered in California and dedicated to early stage technology investments. CerraCap focuses on Enterprise (B2B) products and solutions in the emerging technology areas of Healthcare, AI and Cyber Security. Through its unique Sales and Scale model, CerraCap actively supports portfolio in taking great ideas to commercial success. For more information, visit http://www.Cerracap.com.
Featured Product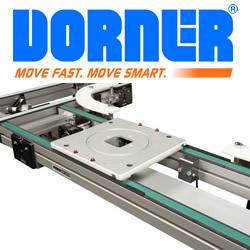 Dorner's 2200 Series Precision Move Pallet Systems feature the latest advancements in pallet traffic management. A unique pin tracking system guides pallets through merges and curves while maintaining product orientation. The fast belt change capability increases efficiency and reduces downtime in assembly automation processes. They are available in lengths up to 25 ft., can handle loads up to 500 lbs. and travel at speeds up to 114 ft/min.