New Sense2Grow Platform Utilizes LoRaWAN to Access Critical Data to Ensure Optimal Growing Conditions
Multi-Tech Systems, Inc., a leading global manufacturer of M2M and IoT communication devices, today announced a joint solution with Technolution, an internationally operating technology integrator, that optimizes growing conditions using solar powered wireless sensors. Developed by Technolution and equipped with a MultiConnect® Conduit® IoT gateway, the new "Sense2Grow platform" utilizes the power of the LoRaWAN™ protocol to receive fine-grained data on growing conditions and has the potential to generate data that can be used to manage and monitor business processes for a wide variety of industrial uses.

The new Sense2Grow platform is currently up and running within the biggest rose greenhouses in the Netherlands, Porta Nova, growers of the coveted Red Naomi rose. "The new Sense2Grow system has provided us with a complete IoT chain: sensor nodes, communication to cloud, central data storage, central device management, data presentation, even installation support," said Leon Dukker managing director at Porta Nova. "We now have access to all the information we need in the format we choose. Our sensor data is presented to us via colored heat maps - it's an ideal format for us to review this kind of information."
Technolution's Sense2Grow industrial IoT solution is not limited to agriculture, as it connects sensors to generate data that can be used to manage and monitor business processes for a wide variety of industrial use. "Simply put, it converts data into information, giving you a better and more up-to-date picture of your business practices. This can yield new insights on how to improve and renew your business practices, " said Olaf Peters, system architect at Technolution.
The Sense2Grow system implements data as a service, where the customer owns the data. In most situations, sensor data is forwarded to third parties for domain specific analysis and presentation. Raw sensor data can also be inspected in the Sense2Grow web dashboard.
"The installation of Technolution's innovative platform within Porta Nova's greenhouses demonstrates the benefits of combining sensor and LoRa technologies to capture vital, hard-to-reach information without relying on unpredictable cellular coverage," said Neil Carey, "MultiTech's MultiConnect Conduit is the industry's most configurable, manageable, and scalable LoRa gateway and was ideally suited for the Sense2Grow platform. We are proud to be part of a solution that further reinforces the power, impact and potential of Smart Farming."
The MultiTech MultiConnect Conduit is ideal for numerous market segments including, Agricultural, Industrial, Smart Cities, and Medical. Each Conduit gateway has the ability to manage thousands of MultiConnect® mDot™ LoRaWAN modules and other sensors and transmit their data over any cellular network to a customer's preferred data management platform.
About MultiTech
MultiTech designs, develops and manufactures communications equipment for the industrial internet of things - connecting physical assets to business processes to deliver enhanced value. Our commitment to quality and service excellence means you can count on MultiTech products and people to address your needs, while our history of innovation ensures you can stay ahead of the latest technology with a partner who will be there for the life of your solution. Visit www.multitech.com for more information. Visit us at CES in Booth, #2314, located in Tech East, Westgate.
Featured Product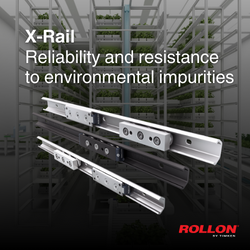 Rollon's X-Rail linear rails are a reliable solution in environments susceptible to impurities. Equipped with rolling elements with shaped and flat raceways, they are available in several versions: galvanized, nitrided or stainless-steel sheet metal. The latter version ensures total corrosion resistance, which is critical for hostile environments such as those found in vertical farming. Particularly innovative is the T + U configuration of the X-Rail linear rails, which can compensate for the parallelism errors of mounting surfaces. This simplifies installation and reduces costs.