aspara™ is a connected control system that uses a combination of adjustable LED grow lights, an automatic watering system, and advanced sensors to grow vegetables and herbs inside
aspara™ is a superior growing solution that uses advanced technology and smart sensors to grow vegetables and herbs for anyone, no matter their gardening experience level. The accompanying aspara™ mobile app provides tips and recipes, making it foolproof for consumers to grow healthy vegetables and plants inside their home. Today, aspara™ launches on Kickstarter with a funding goal of $38,423 USD.

"The aspara™ smart indoor grow box is a miniaturized hydroponics farm system. Hydroponics is a method of growing plants without soil by using mineral nutrient solutions in a water solvent. The hydroponic growing method cuts out the need for harmful chemicals and pesticides and uses only 10 percent of the water that would be used in typical farming methods," said aspara™ Creator Dr. Humphrey Leung.
aspara™s smart built-in sensors monitor, detect, report and record growth conditions based on nutrient concentration, air temperature, humidity, water temperature and overall water content in the system. The sensors will adjust lighting, water flow and planting modes based on a plants needs. Precise monitoring of the growth conditions provides accurate instruction on the amount of water and nutrients required to be refilled into the system. The adjustable grow light provides a full spectrum of intensity that caters to the needs of different plants at different growth stage. Users can control growth through specific programs, replicate nature with sunrise and sunset scenery and adjust the lighting to "dim" or "photo" modes.
The reservoir water system automatically waters seeds and plants based on their nutrient levels and stage of life. The automatic ebb-and-flow design recycles the water so that nothing is wasted. The aspara™ seed kits include 15+ different seed capsules and nutrients that guarantee a 100% germination rate by just plugging the capsules into the specialty grow tray. The types of seed capsules include anything from green lettuce, arugula, sweet basil, dill, parsley, cherry tomato and more.
The aspara™ app provides necessary information, such as plants light, water, temperature and nutrient information. The app also tracks a plants activities and conditions and includes a community platform for users to share their plants growth with others who share a similar passion.
aspara™ is currently available for pre-order on Kickstarter for $299 USD and include seed kits with 16 seed capsules with nutrient packs and access to the mobile app. For more information, visit pr.go2.fund/aspara.
About Growgreen Limited LLC.
Growgreen is a hi-tech hydroponic company established in 2016. The R&D center is located in the Hong Kong Science Park where the company focuses their efforts on research and designing the best plant growth environments for successful user growing experience and better food quality in terms of safety, freshness and nutrition. Growgreen has three areas of focus: develop smart products for modern homes, educate students on healthy living and build healthy living lifestyles in communities. For more information about aspara™, visit https://www.aspara.hk/.
Featured Product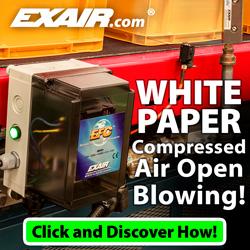 Compressed air is a limited resource that is generated in-house for the benefit of many operations within the manufacturing environment. Learn how to ensure all point of use applications are using your compressed air in the most effective and efficient way possible. Learn how much it costs to produce that compressed air and how Engineered Nozzles can help you use your air more effectively and efficiently.