FieldDataManager from IntelliFarms now comes with agronomy best practices and energy curve data to get the most out of your soil.
Today, IntelliFarms announced a major release of the FieldDataManager. This release builds upon the field and weather monitoring capabilities and now incorporates agronomy best practices and energy curve analysis helping farmers get the most out of their land.

The FieldDataManager now allows a farmer to not only map and monitor whats happening in the fields, but also capture crucial data and information from the soil that will help guide future field activities. FieldDataManager also includes agronomy best practices for specific crops. It is a step-by-step guide directing a farmer of the best time to plant, apply nutrients, harvest and much more.
The system comes complete with alerts set to notify a farmer when soils need moisture, winds are too fast to spray, a device has stopped communicating, along with other critical notifications. FieldDataManager is now a fully integrated system helping farmers be more efficient with resources and activities.
This latest release also allows farmers to report all field events for a specific product on a specific field that can later be shared with potential grain buyers in order to capture premiums. This creates a transparent supply chain, which consumers are now demanding, pushing many processors, merchandisers and grain buyers to offer top dollar for details and information on farming practices.
The FieldDataManager online interface has been redesigned to improve usability and offers high-level and drill-down capabilities. A farmer can now follow the growing cycles of crops and based on data, take necessary action designed to maximize energy and resources available.
All features and functionality are within the SureTrack FARM system, no new FieldDataManager hardware is needed. All current SureTrack FARM customers and FieldDataManager users have access to this latest release and can begin utilizing the tools and resources.
-----------------------------
About IntelliFarms
IntelliFarms is an agricultural technology company based out of Archie, MO. For more than 18 years, IntelliFarms has been working to bring increased value and profits back to the farms. SureTrack FARM™ is connecting farmers with processors and merchandisers who are looking to buy grain directly from the farms. SureTrack PRO™ is locating growers, creating transparency in supply chains and improving overall quality for processors, merchandisers and end users. Visit http://www.intellifarms.com for more information.
Featured Product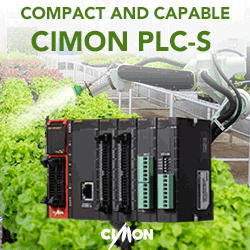 CIMON-PLC is an industrial control device based on international standards of IEC61131. It is designed for a plant site that requires industry-leading reliability. CIMON-PLC is optimized for Industry 4.0 and enhances the intelligence of industrial sites.