Company announces indoor precision agriculture platform, enabling the connected indoor farm
Building on its position as a market leader in horticultural lighting, VividGro announced today the release of its intelligent farm platform, GroNet, which enables growers to optimize crop yields and profitability. GroNet leverages sophisticated diagnostic and monitoring technology in a user-friendly format to reduce overhead and maximize crop health. "The keys to profitably operating a modern indoor farming business are data and analytics. GroNet offers commercial growers the real-time insights and recommendations they need to optimize every aspect of their growing environment in order to maximize yield at minimum cost," said Ted Vucurevich, VividGro's Chief Technology Officer.

Eliminating the guesswork
In the GroNet solution, hardware sensors and photometric equipment continuously measure the environmental conditions that are critical for growers to be able to optimize yields. Standard conditions that GroNet monitors include ambient temperature and humidity, CO2 levels and light exposure. Additional factors, such as nutrient dosing, fertigation management and power usage and consumption can be easily configured to each grower's specific preferences on a crop-by-crop. Integrated software proactively alerts the grower when conditions fall outside defined parameters, enabling quick action to eliminate or minimize adverse effects on the crops. GroNet creates algorithms to establish and automate predictive and corrective actions through direct communication with agricultural equipment. A streamlined, user-friendly dashboard offers at-a-glance data, detailed reporting and ongoing grower education.
Connects to existing systems
The GroNet sensors and software seamlessly interface with any compatible hardware, allowing for easy installation and integration. The system is already compatible with many existing lighting, HVAC, humidity control and nutrient delivery systems. Customized interfaces are available for systems that are not currently supported. OPIX Systems has signed a Master Integrator agreement with VividGro and will sell and integrate the GroNet system via its nationwide group of experienced systems integration professionals. OPIX and its affiliates have been working with the underlying control technology that GroNet is built upon for over a decade. "We are excited to be the premier partner selected to work with VividGro and the exciting new market for horticulture automation control systems," said Charlie Garcia, Managing Partner at OPIX Systems, LLC.
About VividGro
VividGro is a pioneer in the AgTech space. Tailored to the automation and efficiency needs of the indoor agriculture and horticultural markets, VividGro implements solutions that help growers maximize yields and reduce costs. Our state-of-the-art VividGro customized lighting product line delivers optimized PAR to maximize plant growth and PAR efficacy. Our control automation systems and data collection strategies are able to measure and modify growing to help growers learn how to use their resources more efficiently. It is not the lights you use it is how you use them. Learn more about VividGro at www.VividGro.com and join us on social media at Facebook, Twitter, and Instagram.
Featured Product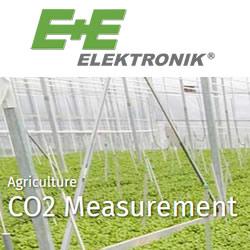 Lowering of energy costs, acceleration of growth and extension of the possible storekeeping duration can be optimised by the precise measurement of humidity, CO2-content and temperature. Optimum basic conditions for animals and plants ensure best agricultural products. As different applications demand various adopted solutions for optimization of agricultural processes, E+E Elektronik provides a broad portfolio of agricultural monitoring products