The awards are sponsored by the PrecisionAg Institute and presented every summer to individuals doing exceptional work in four distinct categories: Crop Adviser/Entrepreneur, Educator/Researcher, Farmer, and Legacy.
St. Louis, MO (AgPR) Aug. 3, 2018 - The PrecisionAg Awards of Excellence in the field of precision agriculture and farm technology were presented at the recent InfoAg Conference in St. Louis, MO.

The awards are sponsored by the PrecisionAg Institute and presented every summer to individuals doing exceptional work in four distinct categories: Crop Adviser/Entrepreneur, Educator/Researcher, Farmer, and Legacy.
The 2018 recipients may be viewed in the left-hand column. See photos and click on the links to view their full story and video interviews.
Crop Adviser/Entrepreneur:
Nishan Majarian, Co-Founder and CEO, Agrian.
Educator/Researcher:
Bruce Erickson, Agronomy Education Distance & Outreach Director, Purdue University
Farmer:
Rodney Wright, Wright Farms, Tyronza, AR
Legacy:
Newell Kitchen, Adjunct Associate Professor, Division of Plant Sciences, University of Missouri
About the Nomination Process
Nominations for the awards were collected from December 2017 through May 2018. Nominees answered a series of five essay questions, and nomination forms were reviewed and judged by a three-person panel of precision experts. The recipients were honored during the opening plenary session at the InfoAg Conference, with awards presented by Paul Schrimpf, Group Editor at Meister Media Worldwide, which oversees the PrecisionAg Institute.
Said Schrimpf at press time, "The emergence of high-speed computer technology, global positioning systems, and the Internet over two decades ago have spawned waves of innovation in agriculture. Incorporating emerging technology into farming practices in ways that increase efficiency, profitability, and sustainability for farm operations has been the lifes work of thousands of dedicated professionals around the world. The PrecisionAg Awards of Excellence are designed to highlight success stories and exceptional work in the field of precision agriculture, and to inspire others to excel."
Since 2007, 50 individuals and organizations have been honored through the Awards of Excellence program.
About the PrecisionAg Institute
Since 2006, the PrecisionAg Institute has stood by one principle: That broader technology adoption in agriculture will lead to a more efficient, profitable and sustainable future for crop and food production. Through research, advocacy and education, the Institutes work informs and influences leaders and decision makers throughout agriculture, champions excellence in the ag technology field, and seeks solutions to the challenges facing precision agriculture technology adoption. Their work is made possible through the support of its partner organizations. The PrecisionAg Institute is administered by Meister Media Worldwide.
About Meister Media Worldwide
Meister Media Worldwide, founded in 1932 with headquarters in Willoughby, Ohio, USA, produces integrated business solutions for worldwide specialized agriculture. A leader in the industry, the company provides information and networking opportunities to communities including fruits, nuts, and citrus; vegetables; cotton; ornamental horticulture; horticulture in Mexico; precision agriculture; custom application of crop inputs; and the manufacturing, formulation, and distribution of crop protection and plant health products in the U.S. and globally. Meister Medias stable now includes 12 major brands whose portfolios include print publications, digital products, conferences and tradeshows, and Connect hosted-buyer events. In addition, Meister Custom Marketing Solutions produces custom print and digital products, and strategic business development services from concept planning through development and delivery. Contact us at info@meistermedia.com.
Featured Product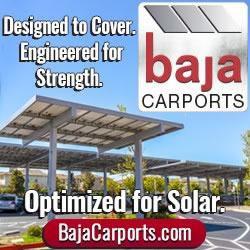 Baja Carports offers an extensive solar support system product line customized to customers' site specifications by in-house engineers, meeting their parking lot coverage, plus optimal PV production needs. Baja's Full Cantilever Tee is often paired with its Semi and Full Cantilever carports to meet live/loads up to 60psf and wind speeds to 160mph. All Baja products are pre-fabricated, bolted connections, pre-galvanized structural steel for fast on-site installation and project aesthetic requirements.