In our foodie culture, it makes sense to learn as much as we can about where our ingredients come from, including learning about the farmers who grow them.
Diane Holdorf, chief sustainability officer at Kellogg Company, shares how the company is accelerating progress against its global sustainability commitments and goal to create 3 billion Better Days for people in need around the world by the end of 2025.

In our foodie culture, it makes sense to learn as much as we can about where our ingredients come from, including learning about the farmers who grow them. Implementing programs which will help improve the livelihoods of those farmers helps their families and communities, while creating value for our foods and brands. I love visiting farms, working with our suppliers and connecting with the farmers who grow the ingredients for our foods.
Creating 3 billion Better Days
As a global food company working to address food security while making foods consumers love around the world, we balance the needs of food production and supporting a healthy planet. To achieve this, we're committed to addressing global food security and sustainability by creating 3 billion Better Days1 for people around the world through our global signature cause platform, Breakfasts for Better Days™. We're setting aggressive goals for ourselves and making great progress too. We recently outlined the progress we've made—much of it ahead of schedule---in our latest Corporate Responsibility Report. In addition to feeding people in need, expanding feeding and nutrition education programs for two million children, and engaging others in the important issue of food security, we've also pledged to improve the livelihoods of 500,000 farmers by the end of 2025.
Helping to Support a More Sustainable Food Supply for the Future
Why farmers? Because they are key to supporting the world's food supply, which needs to increase by 70 percent by 2050 to feed our growing population2. We know that as a global food company, we have a significant role to play in helping to transform the global food system to one that is healthy, affordable, accessible and sustainable.
This week, we are participating in the EAT Stockholm Food Forum. We know that partnerships are critical for our efforts to be impactful. At this meeting, Kellogg will join leaders representing science, politics, business and civil society from around the world to discuss solutions to these important challenges.
For example, Kellogg is working with numerous partners to help 500,000 farmers learn about climate-smart agriculture practices that increase yields and livelihoods, improve climate resiliency and reduce food loss and waste. We especially want to help smallholder farmers (who often farm five acres or less) and women, both of whom play a key role in the global agriculture community but often face significant social, environmental and economic challenges.
Making Progress Ahead of Schedule
I'm pleased to report that we're well ahead of schedule. So far, we've worked with more than 320,000 farmers worldwide, reaching 64 percent of our goal in just two years3. More than 270,000 of these farmers are smallholders, including 20,000 in our direct supply chain and 10,000 women smallholder farmers and workers. This progress comes to life through more than 40 Kellogg's Origin's™ projects across five continents.
When I see first-hand the hard work that goes into planting, nurturing, and sustainably managing the land, I'm proud to know that we're doing our part to help to make a difference. As we talk with and learn from others at the EAT Food Forum, I'm confident that, together, we can enable real, significant progress towards creating a more sustainable food system for our future.
About Kellogg Company
At Kellogg Company (NYSE: K), we strive to enrich and delight the world through foods and brands that matter. Our beloved brands include Pringles®, Cheez-It®, Keebler®, Special K®, Kellogg's Frosted Flakes®, Pop-Tarts®, Kellogg's Corn Flakes®, Rice Krispies®, Eggo®, Mini-Wheats®, Kashi®, RXBAR® and more. Net sales in 2017 were approximately $13 billion, comprised principally of snacks and convenience foods like cereal and frozen foods. Kellogg brands are beloved in markets around the world. We are also a company with Heart & Soul, committed to creating three billion Better Days by 2025 through our Breakfasts for Better Days™ global purpose platform. Visit www.KelloggCompany.com or www.OpenforBreakfast.com.
Featured Product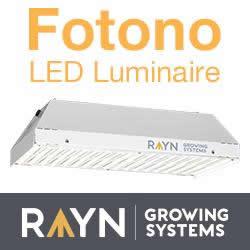 Fotono is a full spectrum LED horticultural luminaire designed to directly replace HPS lights in greenhouses. At 12 pounds, 20 inches long, and 5 inches high, Fotono's compact size makes installation simple while minimizing structural burden on greenhouses. This compact fixture packs energy-saving and yield-improving features, such as a high output, stepless dimming, advanced spectral capabilities, and more.