Impressive data and unique technology leads to crop expansion and exclusive distribution partnership with Triangle Chemical Company
Locus Agricultural Solutions™ (Locus AG) is celebrating its one-year anniversary since initiating microbial-based soil amendment treatments focused on Floridas struggling citrus groves. Using a unique cold chain delivery system, results confirm that the company has found an answer to microbial inconsistency through a specialized production and delivery process. The technology innovations, impressive field trial outcomes and extensive grower interest led to treatments on more than 21,000 commercial citrus acres, expansion into additional crops and sod, and an exclusive partnership with Triangle Chemical Company (Triangle CC), which was confirmed last week.

Locus AG began Florida field trials in May 2017 using Rhizolizer™, a highly concentrated soil amendment made of a microbial blend thats manufactured in a proprietary modular fermentation system and delivered quickly via the companys unique cold chain process. Different than other microbial products, the solution is fermented in small, high-potency batches that arrive fresh to growers—skipping the long distribution process and assuring the highest efficacy possible. Because of the modular fermentation technology, Rhizolizer can also be customized to meet the needs of different regions, crops and soil types.
Exceptional data from field trials on 700 acres and hundreds of thousands of trees show notable benefits from the ground up, including 80% increases in feeder root mass, increased canopy density and larger fruit size—confirming that fresh fermentation and customization provide a strong foundation to consistent results. Additional field trials demonstrated similar benefits in an expanding list of additional crops.
The unique approach, benefits, crop expansion and growing industry interest caught the attention of Triangle CC, a Georgia-based distributor of agricultural products with extensive operations throughout the Southeastern markets. With the belief that together the two companies can change the future of agriculture management programs and proper microbial usage, an exclusive Florida distribution partnership has been formed—which was finalized during a kickoff meeting on May 31.
"Our goal is to consistently adopt and bring the next generation of innovation to agriculture by finding unique products that can create a personalized, integrated and value-added management platform for growers, and our partnership with Locus AG aligns well with that goal," said Robert "Bo" Brooker, Florida division manager at Triangle CC. "Their fresh, cold-chain and customizable fermentation system is a key factor thats missing in other industry offerings, and what we believe to be the future standard for microbial production."
The partnership, which will initially focus on the Florida market, allows Locus AG to reach even more growers with its efficacious products—especially those with Citrus groves impacted by HLB.
"Were dedicated to providing a portfolio of tools for growers that will help them achieve the best productivity from their crops—especially against industry challenges like HLB—by going back to the basics of biology," said Dr. Paul Zorner, president and CEO of Locus Agricultural Solutions. "Microbial products can have extensive benefits in improving crop vigor and yield, and through our unique fermentation technology, growing product portfolio and new partnership with Triangle CC we can continue to expand our unique microbial-based offerings throughout the Florida Ag community."
For more information on Locus AGs microbial product approach, company expansion or new Triangle CC partnership, visit LocusAG.com. For more information on Rhizolizer sales and Triangle CCs distribution, visit TriangleCC.com.
###
About Locus Agricultural Solutions™
Locus Agricultural Solutions™ (Locus AG) was launched with the strategic aim of providing growers with science-based solutions to address several challenges to agricultural productivity: crop vitality and nutrition, soil microbial health, insect pest management and plant disease management. These solutions include new tools for integrated management practices to better manage pest resistance in lieu of traditional chemical options, and to improve soil health and nutrient availability. The company utilizes a ground breaking, proprietary on-site fermentation system to produce fresh, dense batches of agricultural microbes that are delivered rapidly via a unique cold chain process by established local distributors directly to the grower for application. Locus AG is leveraging its core scientific capabilities from its parent organization, Locus Fermentation Solutions, LLC, an Ohio-based industrial bioscience company. For more information, visit LocusAg.com.
About Triangle Chemical Company
Triangle Chemical Company (Triangle CC) was founded in 1947 in Macon, Georgia, and is proud to be a local, family-run business with four generations of family involvement and the technology and resources of a national company. We are a full-service wholesale/retail distributor of agricultural chemicals, seed, fertilizer, and technology throughout the Southeast, providing services to the row crop, vegetable, tree crop, turf, and ornamental industries. For more information, visit http://www.TriangleCC.com.
Featured Product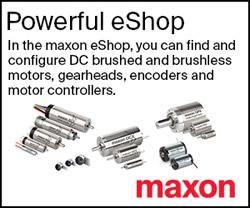 maxon launches the next generation of positioning controllers - the EPOS4. A high performance module with detachable pin headers and two different power ratings. With a connector board, the modules can be combined into a ready-to-install compact solution. Suitable for efficient and dynamic control of brushed and brushless DC motors with Hall sensors and encoders up to 750 W continuous power and 1500 W peak power. The modular concept also provides for a wide variety of expansion options with Ethernet-based interfaces, such as EtherCAT or absolute rotary encoders.