The pilot program follows the successful implementation last year of Smart Yields systems at a Colorado orchard, which saved a key apple crop during a late-season frost.
Honolulu, Hawaii, May 22, 2018 - Honolulu agriculture technology company Smart Yields and the Rocky Mountain Farmers Union (RMFU) have launched a state-of-the-art pilot program to monitor crops and livestock using wireless sensors, hardware and data analytics. It is the first program of its kind in Colorado, spanning nearly 1 million acres of land.

The pilot program follows the successful implementation last year of Smart Yields systems at a Colorado orchard, which saved a key apple crop during a late-season frost.
The program will involve farmers, growers and ranchers throughout the state who will work with Smart Yields and the RMFU to implement a network designed to protect crops and optimize operations. Using an internet of things (IoT) framework, hundreds of Sensohive remote sensors and low-power, long-range Sigfox wireless networks are being deployed this year to provide real-time crop monitoring, weather alerts, trends, forecasts and recommendations via an intuitive mobile app.
"Designed to be simple and easy to use, Smart Yields seamlessly connects with a variety of sensors and hardware, and taps a diverse array of data sets to give users a flexible yet powerful tool for monitoring crops," said Vincent Kimura, CEO of Smart Yields. "This helps mitigate damage from issues like late-season frost. This pilot program with the Rocky Mountain Farmers Union is our largest to date, bringing together farmers, growers and ranchers from across Colorado to discuss data-driven solutions."
Smart Yields and RMFU members will meet regularly with participants to test and deploy technology, gather feedback, and explore additional sectors where these systems may serve a critical role, such as pest monitoring. Designed around the needs of small- to medium-size farmers, Smart Yields technology is being implemented to monitor soil health, optimize carbon dioxide levels, modify water use, and identify value-added uses for crops.
Harrison Topp, director of membership at the Rocky Mountain Farmers Union, said members are eager to test the grower-centric technology, which has formerly been inaccessible to many smaller agricultural operations.
"The Rocky Mountain Farmers Union has a long history of implementing technologies to help improve industry outcomes," said Topp, who also grows peaches, plums, cherries and apples in Colorado. "We are particularly interested to contribute to this crowd-sourced data program, which allows our members benefit from the shared knowledge of all participants in the region. When Smart Yields technology is used in coordination with other farmers, it expands beyond solely about what is important at your farm, and it shows you what is important about conditions across many farms."
Edward Tuft, who founded Leroux Creek Foods more than 30 years ago in Western Colorado, used the Smart Yields system during a late-season frost in 2017, saving his Honeycrisp apple crop, worth hundreds of thousands of dollars. The Smart Yields Late Spring Frost Alerts system for orchards reports temperature in real time via SMS message at various altitudes, which is critical due to inversion. Farmers can then activate heating and fan systems to regulate conditions.
"It can cost $500 an acre to heat an orchard through frost season, so this system, which I can easily monitor in one platform on my mobile devices, reduces my expenses by allowing me to operate more efficiently," he said.
For more about Smart Yields technology and internationally recognized projects, visit SmartYields.com, and to learn about the Rocky Mountain Farmers Union, visit RMFU.org.
About Smart Yields
Founded in 2015, Smart Yields is a Honolulu-based agriculture technology company that connects farmers, researchers and their communities through real-time analytics gathered from a long-range network of integrated, state-of-the-art sensors. Managed in an easy-to-use mobile app, this system helps protect crops, optimize operations and increase yields. For more, visit SmartYields.com.
About the Rocky Mountain Farmers Union
Rocky Mountain Farmers Union (RMFU) is a progressive, grassroots organization founded in 1907. RMFU represents more than 22,000 family farmers and ranchers in Wyoming, Colorado, and New Mexico. RMFU is dedicated to sustaining our rural communities, to wise stewardship and use of natural resources, and to protection of our safe, secure food supply. RMFU supports its goals through education and legislation, as well as by encouraging the cooperative model for mutual economic benefit. For more, visit RMFU.org.
Featured Product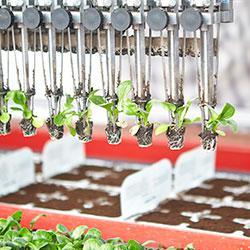 The FAULHABER Linear Actuator L series are designed to provide high performances in compact dimensions, these actuators can support large input speed, high output force and are suited for a wide range of applications like robotics, industrial machines and laboratory equipment.