Consumer-driven expansion doubles size of original greenhouse and increases production of local baby greens
Little Leaf Farms, one of the largest growers of hydroponic baby greens in North America, announced today that it has officially opened its expanded greenhouse in Devens, Mass. The expansion doubles the size of the greenhouse from 2.5 acres to 5 acres, and more than doubles its annual production of baby greens. Little Leaf Farms also announced it has purchased adjacent land for a third expansion project set to begin in 2019, which will further increase the size of the greenhouse to approximately 10 acres.

Opened in 2016, Little Leaf Farms produces locally grown, fresh baby greens year-round that are delivered to New England consumers within hours of being harvested. Little Leaf Farms grows multiple varieties of baby lettuce at its greenhouse that are blended into salad mixes and sold in more than 1,000 Northeast grocery stores and to many restaurant, University and institutional customers. Little Leaf Farms ability to deliver fresh, great tasting and safe baby greens to consumers that can be easily traced back to its Massachusetts greenhouse has led to the companys rapid growth and expansion.
"We are passionate about transforming the way food is grown," said Paul Sellew, CEO and founder of Little Leaf Farms. "We incorporate principles of sustainability in everything we do, all to provide consumers with delicious, local baby greens at a fair price. Our process is clean from the start, so consumers can be confident theyre purchasing a safe product, grown in an environment that employs the most advanced food safety practices."
Little Leaf Farms hydroponic growing process uses mineral nutrient solutions in water without soil. It is completely sustainable, utilizing natural sunlight, a computer-controlled growing environment and a rainwater-based irrigation system that uses 90 percent less water than field-grown lettuce companies. Little Leaf Farms technologically-advanced growing system enables the baby greens to be seeded, grown, cut and packaged without ever being touched by human hands. The production system is free from chemical pesticides, herbicides and fungicides, ensuring that what customers purchase is safe.
"More than 98 percent of the lettuce we eat in this country is grown on the West Coast and shipped for days, which means customers in New England are not receiving the highest quality or freshest product," said Andrew W. Kendall, executive director of the Henry P. Kendall Foundation, an organization focused on creating a resilient and healthy food system in New England to increase the production and consumption of local, sustainably produced food. "Little Leaf Farms has cracked the code on providing the region with fresh baby greens within hours of being harvested. Its exciting to see that consumers appreciate the value of the product, which will drive the companys growth for years to come."
Photos available upon request. For more information about Little Leaf Farms, its expanded greenhouse facility and where its baby greens can be purchased, visit www.littleleaffarms.com.
About Little Leaf Farms
Located in Devens, Massachusetts, Little Leaf Farms is a hydroponic greenhouse facility that is committed to transforming the way food is grown by producing fresh, safe, high quality baby greens in a cost effective and sustainable manner. The company has designed, constructed and is operating one of the largest greenhouses of its kind in the world which utilizes natural sunlight, a computer controlled growing environment, a mobile gutter system and rainwater captured from the roof. The company adheres to the strictest food safety standards and is a founding member of the Controlled Environment Agriculture Food Safety Coalition Forum. For more information, visit www.littleleaffarms.com.
Featured Product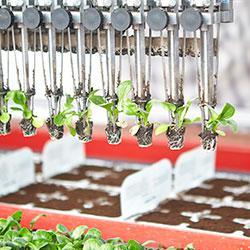 "Smart farming" is an important part of the answer to this existential question: Extremely high efficiency in food production through the targeted use of the latest technology, computer-supported and - where possible - fully automatic. Seeds are individually and precisely placed; fruits carefully picked by mechanical grippers; fertilizers and plant protection products applied in small doses and in a targeted manner. These operations require a large number of small electric motors that are both robust and powerful.