Perry will participate in an interview-style presentation, moderated by Greg Duerksen, president of agribusiness executive search firm Kincannon & Reed, on the opening morning of the event.
The fourth annual AgTech Nexus USA (formerly called GAI AgTech Week) here at the Harvard Club, June 6-7, will feature David Perry, CEO and president of agtech start-up Indigo Ag, the top funded agtech start-up of all time, as the keynote speaker.

Boston-based Indigo Ag last year earned the title of Boston's newest "unicorn" when a $156 million Series D funding round bumped the company, established in 2014, to a value of $1.4 billion. Venture capitalists and even public pension funds have been eager to invest in the privately-held business with the hopes that it will perfect its mission to treat seeds with naturally occurring microbes to make crops more tolerant of stressful conditions. Indigo, which also offers software to help farmers improve profitability, has sequenced the genome of more than 40,000 microbes that can help ward off disease, be more resistant to drought, and better utilize nutrients.
Perry will participate in an interview-style presentation, moderated by Greg Duerksen, president of agribusiness executive search firm Kincannon & Reed, on the opening morning of the event. He will speak to an audience that includes the latest innovators and investors in the burgeoning sector about Five Forces That Will Shape Agriculture, highlighting the opportunities in the sector, and the need for increased investment to support more R&D and entrepreneurs with the disruptive technologies that will help sustainably feed the world's growing population.
Other featured speakers to take the AgTech Nexus stage include Jack Bobo, chief communications officer at Intrexon Corporation, a synthetic biology company that develops revolutionary solutions to the world's most pressing problems in food, energy, and health; and Isha Datar, executive director of New Harvest, a not-for-profit organization that focuses on accelerating cellular agriculture with the vision of building a post-animal bioeconomy where animal products are harvested from cell cultures grown in labs.
Bobo, who has delivered more than 300 presentations on the future of food and the role of science and technology in feeding the world, was named in 2015 by Scientific American as one of the 100 most influential people in biotechnology today. He will speak at AgTech Nexus on Fads, Trends and Values - What Drives Consumer Food Preferences and Why It Matters, which will focus on the greater transparency that consumers are demanding in the foods they buy and in the supply chains that bring that food to their table. He also will cover how food companies' response to this sea change will determine their financial future as well as the health of the public and the planet.
Datar has worked to advance cellular agriculture research since 2009, including funding early stage, foundational research in academia in order for ready-to-market technologies to be developed for commercial use. She co-founded two disruptive food technology start-ups in 2014: Muufri, which makes milk without cows, and Clara Foods, which offers the world's first animal-free egg white. At the event, she will present Cellular Agriculture: A Future Food Solution?
Other key speakers at the event hail from AeroFarms, Anterra Capital, BrightFarms, the Bill and Melinda Gates Foundation, Cargill, Conservis, Data Collective (DCVC), Freshfields Bruckhaus Deringer, Sustainable Insight Capital Management, TechAccel and more. See the full agenda for details.
AgTech Nexus USA, a brand of Global AgInvesting, is a two-day conference where attendees are immersed in the innovations and investment opportunities surrounding this compelling, nascent sector where in just the indoor farming section alone, is predicted to have a CAGR of 30.7 percent between 2015 and 2020, reaching the value of US$3.88 billion by 2020.
Learn more at www.agtechnexus.com or follow us @agtechnexus.
Global AgInvesting, a brand of HighQuest Group, is the world's most well-attended agriculture investment conference series and leading resource for events, research, and insight into the global agricultural sector. GAI has hosted more than 9,000 attendees since 2009, and currently produces five annual events in New York, Boston, Tokyo, London and Dublin. www.globalaginvesting.com
Featured Product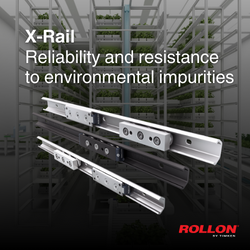 Rollon's X-Rail linear rails are a reliable solution in environments susceptible to impurities. Equipped with rolling elements with shaped and flat raceways, they are available in several versions: galvanized, nitrided or stainless-steel sheet metal. The latter version ensures total corrosion resistance, which is critical for hostile environments such as those found in vertical farming. Particularly innovative is the T + U configuration of the X-Rail linear rails, which can compensate for the parallelism errors of mounting surfaces. This simplifies installation and reduces costs.