Since 2015, Growlink has helped thousands of farmers monitor their grow and boost production through environmental controls, precision irrigation, and nutrient dosing.
Growlink, a leading agriculture technology company, today announced the extension of its product line for commercial operations specializing in agriculture and cannabis. Information on Growlink's commercial products is available at www.growlink.com, and interested growers can call the company for a custom quote.

Since 2015, Growlink has helped thousands of farmers monitor their grow and boost production through environmental controls, precision irrigation, and nutrient dosing. With the introduction of the EC-3 and EC-6 controller boards, I/O expansion modules, and a subscription-based data management platform, the company is set to deliver real-time monitoring and automation to commercial operations of any size.
The EC-3 Controller includes eight solid state relays for controlling external devices and the EC-6 Controller includes 16 solid state relays, giving the user the ability to handle irrigation, lighting, dosing, temperature, and other variables inside a greenhouse or indoor farm. The capacity of either controller can be extended with I/O expansion modules, so that the system can grow as an operation grows.
Features of both controllers include:
Internet connection via wi-fi or Ethernet
System management with a smartphone app that saves data to the Growlink cloud
Alerts delivered to a smartphone when a system malfunctions or a reading reaches a pre-defined threshold for intervention
EMI/EFI resistance from electronic ballasts
Control of unlimited devices with additional wired and wireless I/O modules
The commercial product line was further bolstered with the development of Growlink Pro—an advanced system management platform with enterprise-level features. This optional subscription-based service comes with:
Real-time dashboards and advanced data analytics
Exportable data formats including Excel, CSV, Google Sheets, and more
Rule-based scheduling that constantly learns, predicts and adapts
User account types with varying levels of permissions
Data and video storage 24/7 for up to 365 days
Unlimited support with Growlink engineers 24/7/365
"Regardless of whether it's cannabis or food production, companies are looking to reduce costs and improve production through automation," says Ted Tanner, CEO and co-founder of Growlink. "What it really comes down to is optimization, and our commercial-grade system gives growers the means to efficiently and thoroughly oversee their operations and expand their farms when the time comes."
To learn more about Growlink's innovative farming solutions, visit www.growlink.com.
About Growlink
Growlink's mission is to create smart farms that maximize production by leveraging the power of big data, the cloud, and IoT devices. The Growlink Platform controls and automates lighting, climate, fertigation, and irrigation systems. For more information, visit www.growlink.com.
Featured Product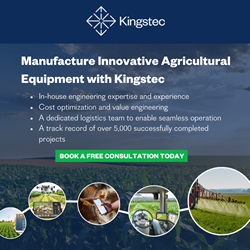 In the rapidly evolving agricultural landscape, leading AgriTech companies are increasingly leveraging the experience and expertise of strategic engineering and manufacturing partners to bring cutting-edge, cost-effective solutions to market. Kingstec is an all-in-one engineering, manufacturing, and logistics partner, with over 40 years of experience and 5,000 successfully completed projects. We can help you bring innovative, cost-optimized farm equipment, sensors, drones, components, and more to market quickly with in-house engineering and manufacturing expertise, a dedicated logistics team, and a network of world-class manufacturing and supply chain partners.