Company's aims to redefine the food chain in America
CORONA, Calif., May 10, 2018 /PRNewswire/ -- Grow Pod Solutions, a leading agtech company and developer of portable automated farms, announced that its systems can improve nutrition by reducing the time it takes for produce to travel from farm to plate.

Consider this: The produce on your plate traveled an average of 1,500 miles to get there. And while those fruits and vegetables were being transported on trucks or sitting in distribution centers, they were losing much of the freshness and nutritional value.
Grow Pod Solutions aims to change that.
The company wants to open their unique, automated, transportable farms in the top 100 metropolitan areas in America, and provide fresh, nutritious, and locally grown food to each city.
The company believes that entrepreneurs and existing businesses in the food industry, including restaurants, grocery stores, and traditional agricultural companies, will start using Grow Pod's automated indoor farms to address the growing problems with traditional food distribution.
The benefits to Grow Pod's locally grown produce are many:
Vegetables are picked when ripe and allowed to develop to full flavor and nutritional value.
Crops are grown in close proximity to where they will be consumed, which reduces distribution costs and related energy use.
With its sealed system design, pesticides and herbicides are not needed. Food is clean, safe, fresh and healthy.
Grow Pod's automation sensors will monitor the plants and measure the crop's vital signs: humidity, temperature, air pressure, carbon dioxide, nutrient levels, water temperature, and water pH. The data can be collected and analyzed to adjust the growing conditions for each plant variety.
"Grow Pod's unique automation allows us to deliver to the plant exactly what it needs to grow to its fullest potential," said George Natzic, President of Grow Pod Solutions.
Grow Pod's purified environment eradicates any chance of cross contamination, unwanted pollination, or impurities like those that caused the recent outbreak of E. coli on romaine lettuce, causes of which were reported by CNBC.
"Our next generation systems are the most advanced indoor farms in the world," Natzic said. "These systems can revolutionize the entire food and agriculture industries."
For information on Grow Pod Solutions, visit: www.growpodsolutions.com or call (855) 247-8054.
Featured Product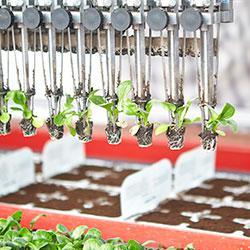 "Smart farming" is an important part of the answer to this existential question: Extremely high efficiency in food production through the targeted use of the latest technology, computer-supported and - where possible - fully automatic. Seeds are individually and precisely placed; fruits carefully picked by mechanical grippers; fertilizers and plant protection products applied in small doses and in a targeted manner. These operations require a large number of small electric motors that are both robust and powerful.