CommoditAg LIVE Brings More Benefits to Growers
EFFINGHAM, IL - (AgPR) - May 10, 2018 - CommoditAg™ launches CommoditAg LIVE, an enhanced ecommerce platform providing more benefits to growers and a superior customer experience. CommoditAg LIVE is an open access, transparent, and convenient ecommerce platform which you have come to expect from CommoditAg and now with more features and benefits for the grower. It gives growers the ordering convenience they want and the real-time support they need. "We are obsessed with our customers experience and we are always looking for ways to make it easy for growers to get their ag inputs," says Cheryl McWhorter, Vice President, Business Alignment.

With real-time transparent inventory levels at the point of sale, growers can always be confident when placing their orders. By entering a zip code, a grower can shop by warehouse for convenient same day pickup or for delivery. The choice is theirs. "CommoditAg LIVE is the best in Ag e-commerce with live inventory levels when ordering and with live customer support. Every customer receives a phone call after ordering for that personal touch," McWhorter states.
Another way CommoditAg has raised the bar is with its open access architecture. "We have no membership fee and we welcome all growers to enjoy CommoditAgs convenience powered by trust," said Bruce Vernon, CEO, CommoditAg. CommoditAg offers quality products at competitive prices supported by an extensive network of experienced and trusted ag retailers.
About CommoditAg
CommoditAg is the easy, local, and direct solution for farmers wanting high quality agriculture products at a value. This user-friendly website lets growers order chemicals and plant nutrition products directly to their door or to one of the many cooperating facilities for easy pick-up. CommoditAgs simple online ordering process saves time and money—we put you in control.
To experience the CommoditAg™ difference, visit CommoditAg.com.
Featured Product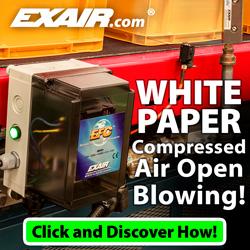 Compressed air is a limited resource that is generated in-house for the benefit of many operations within the manufacturing environment. Learn how to ensure all point of use applications are using your compressed air in the most effective and efficient way possible. Learn how much it costs to produce that compressed air and how Engineered Nozzles can help you use your air more effectively and efficiently.