The Irrigation Association is pleased that the House Committee on Agriculture directs USDA to expand uses of irrigation systems and technologies.
In another positive step for efficient irrigation, the House Committee on Agriculture reiterated its commitment to expanding the uses and opportunities of irrigation through its committee report on the Agriculture and Nutrition Act of 2018, otherwise known as the farm bill. The report, which was released on May 3, comes at the heels of the committee passing the farm bill on a party-line vote of 26-20 on April 18.

The report, which will provide direction to the U.S. Department of Agriculture on implementation of the farm bills programs, states that "the Committee urges the [USDA] to use the [farm bill] authorities to promote adoption of conservation practices that promote efficient and effective use of irrigation water, and not focus on net water savings per acre irrigated" and "encourages the [USDA] Secretary to consider whether the [EQIP] projects include an integrative approach to addressing nutrient management and water efficiency issues."
"The Irrigation Association welcomes the direction set by the House agriculture committee regarding irrigation and the farm bill," IA Government and Public Affairs Director John Farner said. "These directives support the IAs farm bill priorities and will be a welcomed change to the Environmental Quality Incentives Program, if passed by Congress and signed into law by the president."
Currently, irrigation projects funded by EQIP must prove a savings of water. If passed and signed into law, the report language will urge the USDA to take other environmental benefits of efficient irrigation into account, such as nutrient application and management through pressurized irrigation.
"We look forward to working with Congress and the USDA as the farm bill continues to work its way through Congress," Farner continued. "We thank the committee for listening to the concerns of the irrigation industry and strengthening the EQIP program through this report language."
The full House of Representatives is scheduled to debate and vote on the Agriculture and Nutrition Act of 2018 later this month.
About the Irrigation Association
The Irrigation Association is the leading membership organization for irrigation companies and professionals. The IA is committed to promoting efficient irrigation and to long-term sustainability of water resources for future generations. The IA works to improve industry proficiency, advocate sound water management and grow demand for water-efficient products and services. For more information, visit http://www.irrigation.org.
Featured Product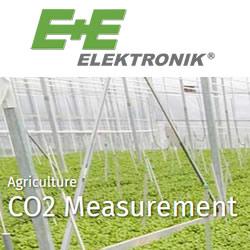 Lowering of energy costs, acceleration of growth and extension of the possible storekeeping duration can be optimised by the precise measurement of humidity, CO2-content and temperature. Optimum basic conditions for animals and plants ensure best agricultural products. As different applications demand various adopted solutions for optimization of agricultural processes, E+E Elektronik provides a broad portfolio of agricultural monitoring products