New feature allows instant signature and receipt on grain contracts
FARGO, N.D.--(BUSINESS WIRE)--Bushel™, a product of Myriad Mobile, an enterprise software technology company focused on mobile and web applications, today announced the growth of its Bushel mobile grain platform feature set with the inclusion of eSignature capabilities.

Bushel platform launches eSign capability, a first-of-its-kind feature that allows grain elevators, cooperatives, and ethanol plants to more efficiently do business with their grain customers.
Tweet this
The addition of eSign to the Bushel platform introduces efficient contract management. With mobile and web access to contracts, grain elevators and growers are given a "one-stop-shop" for contract execution, storage and delivery. Bushel's eSign is a first-of-its-kind feature that allows grain facilities to more efficiently do business with their grain customers. The eSign feature allows a legally binding contract to be signed by growers through a branded mobile app provided by their elevator. The eSign feature is another way that Bushel is working towards bringing different systems in the grain industry together under one platform.
"Elevators and retailers will see immediate benefits from the new eSign feature and our contract management technology," said Ryan Raguse, Myriad Mobile chairman and co-founder. "Our customers, including my family's farm, have been eagerly awaiting to get our hands on eSign because it makes the contract signing process easier and saves money."
The Bushel platform enables grain elevators, cooperatives and ethanol plants to connect with their growers and deliver real-time information through elevator-branded mobile apps that provide cash bids, scale tickets, contracts, prepays markets, and notifications. Nearly a year following its launch in June 2017, Bushel has expanded its footprint from ten pilot locations in North Dakota to more than 400+ elevator and ethanol plant locations throughout the U.S. and Canada. Bushel-powered elevator apps are accessible to more than 20,000 farmers today.
"We've found that many grain elevators and retailers are managing their grain contracting process with spreadsheets and sticky notes, or not at all," said Raguse. "Bushel's contract management platform creates a seamless experience between the grain elevator and grower, keeping everything clean, correct and organized."
eSignatures are a legally accepted and protected form of signature covered by the eSign Act. Bushel's eSign capabilities include audit trailing, PDF conversion and archiving. Elevators send out contracts to growers who are then notified by push notification, text and/or email that their contract is ready to review and sign. By clicking on the contract, growers sign the contract immediately and store it securely in the Bushel CMS (content management system). Growers and elevators are able to view past or current contracts and see exact times of when a contract was received, opened and signed.
Bushel's eSign feature is available as a premium feature upgrade within the Bushel platform. The first to market feature will be available May 2018.
About Bushel
Bushel™ is the grain industry's first software platform that allows grain elevators to connect with their growers digitally to provide real-time information. Offered through elevator-branded apps, Bushel includes real-time scale tickets, contracts, pre-pays, cash bids and contract management. Bushel is a secure, cloud-based platform powered by a proprietary translator built by Myriad Mobile that enables integration with leading, modern agriculture cooperative accounting systems. www.bushel.ag
Featured Product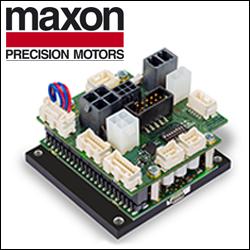 maxon launches the next generation of positioning controllers - the EPOS4. A high performance module with detachable pin headers and two different power ratings. With a connector board, the modules can be combined into a ready-to-install compact solution. Suitable for efficient and dynamic control of brushed and brushless DC motors with Hall sensors and encoders up to 750 W continuous power and 1500 W peak power. The modular concept also provides for a wide variety of expansion options with Ethernet-based interfaces, such as EtherCAT or absolute rotary encoders.