Senet Low Power Wide Area Virtual Network (LVN™) and RAN Operator Services Support Expansion of Inland Cellular IoT Connectivity Portfolio
PORTSMOUTH, N.H.--(BUSINESS WIRE)--Senet, a leading provider of cloud-based software, global connectivity service platforms and network build-out for the Internet of Things (IoT), and Inland Cellular, a provider of local, nationwide and international cellular coverage, today announced a partnership to deliver Low Power Wide Area Network (LPWAN) connectivity across Inland Cellulars coverage areas and extend Inlands branded services to support the rapid growth of IoT applications.

Through this partnership, Inland Cellular will begin offering LoRaWAN™ connectivity in the coming months for a broad range of IoT applications and markets, including tank monitoring, water metering and management, smart agriculture and smart cities. The companies will work closely to expand Inlands coverage footprint and IoT application support through Senets Radio Access Network (RAN) Operator services, which provide coordinated go-to-market activities between operators, solution providers and system integrators ready to take immediate advantage of highly scalable and secure connectivity purpose built for the IoT.
Adding LoRaWAN to their connectivity portfolio supports Inland Cellulars strategic expansion into IoT with the recent launch of their Emerge Technologies brand. Emerge Technologies provides products and services for industrial IoT, enterprise, smart home and consumer solutions.
"Partnering with Senet to offer LoRaWAN connectivity services gives us a first mover advantage and allows us to become more competitive by supporting one of the fastest growing IoT connectivity technologies in the world," said Chip Damato, Vice President at Inland Cellular "With Senets support, we have the ability to rapidly scale our network coverage to support many new business opportunities and the expansion of our Emerge Technologies IoT brand, while maintaining our commitment to providing industry leading customer service and support."
"Inland Cellular is a great example of a forward-thinking operator strategically leveraging their existing infrastructure to deploy IoT services and develop new revenue streams through ecosystem partnerships," said Noelani McGadden, VP of Strategic Accounts at Senet. "We are very excited to be partnering with Inland Cellular to help them create additional business value and reach new customers across existing and rapidly emerging market segments in the IoT."
As part of Senets Low Power Wide Area Virtual Network (LVN™), Inland Cellulars LoRaWAN network is powered by Senets cloud-based Operations Support System (OSS) and Business Support System (BSS) platforms, providing extremely efficient, scalable and secure options to connect and manage low-power, low-cost sensors at massive scale. The Senet LVN was recently recognized by Frost & Sullivans Manufacturing Leadership (ML) Council as a Manufacturing Leadership Award winner for its outstanding achievement in the Industrial Internet of Things.
"We are experiencing a growing trend in which operators are recognizing the benefit of supporting multiple connectivity technologies to support a variety of customer needs and IoT use cases," said Bruce Chatterley, CEO at Senet. "With a multi-year head start over competing LPWAN providers, critical technical advantages and disruptive go-to-market models, Senet has become a trusted partner for operators like Inland Cellular who are ready to join the IoT services economy today."
About Inland Cellular
Inland Cellular is a locally operated rural cellular communications company that provides service in Southeastern Washington and North Central Idaho. We have been providing quality local cellular service since 1990. From the beginning, our goal has been to provide our customers with the friendliest, most complete customer service in the area while providing local cellular service that is second to none. For more information, please visit http://www.inlandcellular.com
About Senet, Inc.
A founding and Contributing member of the LoRa Alliance, Senet is the leader in global Internet of Things (IoT) connectivity used to instrument the physical world and enable businesses to revolutionize their operations. With core values centered around changing the world for the better, Senet is committed to promoting IoT Network and Network Management innovation, and supports an open partner ecosystem to ensure that IoT realizes its full potential of delivering economic, environmental, and social improvements. Senet is dedicated to supporting the LoRaWAN protocol as the open global standard for secure, carrier-grade Low Power Wide Area (LPWA) connectivity for IoT solutions across all industries. For additional information, visit http://www.senetco.com.
Featured Product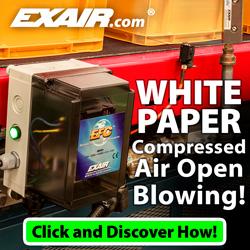 Compressed air is a limited resource that is generated in-house for the benefit of many operations within the manufacturing environment. Learn how to ensure all point of use applications are using your compressed air in the most effective and efficient way possible. Learn how much it costs to produce that compressed air and how Engineered Nozzles can help you use your air more effectively and efficiently.