New digital payment system, PavoCoin, is for the entire AgTech ecosystem
Pavo, a software company providing a fee-based IoT Blockchain software platform for the agriculture ecosystem, aimed at increasing yields and crop transparency, has signed-on with ICOBox, the worlds leading provider of SaaS solutions for Initial Coin Offerings.

Pavos cryptocurrency, PavoCoin (PAVO), will support the entire AgTech ecosystem, including growers, distributors, suppliers and wholesalers.
"We have recently deployed the platform in Northern California, distinguishing us from most other token sales, and the Pavo coin will be accepted as payment for use of the platform," said Erhan Cakmak, CEO of Pavo.
The Pavo software platform is designed to increase crop yields and quality by automatically collecting data from Internet of Things (IoT) sensors, and securing it with blockchain.
"Pavo is addressing a very important issue in the AgTech ecosystem - its transparency and sustainability," says Nick Evdokimov, ICOBox co-founder. "ICOBox is a perfectly suitable solution for blockchain-based projects like Pavo: we work closely with their team to prepare the token generation event while the company can focus on the actual business at hand."
Pavos team consists of seasoned Silicon Valley and AgTech professionals. Allan Young, vice-chairman and co-founder has successfully operated two of the San Francisco Bay Areas larger incubators, Runway and Topline, which have been home to hundreds of early-stage technology startups and post-revenue startups.
Erhan Cakmak, CEO and co-founder, and a former GE and Aspect executive, co-founded and led, as president, the successful SaaS contact center company Bright Pattern. Most recently, he was chief operating officer heading international expansion for the San Jose-based IoT software company N3N, Inc., a Cisco Investments portfolio company. He also is co-founder and chairman of Agrotics, an AgTech IoT company.
The Pavo token generation event is scheduled for April, 2018.
Featured Product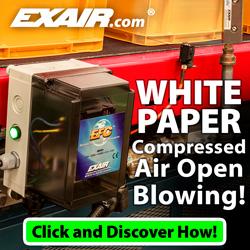 Compressed air is a limited resource that is generated in-house for the benefit of many operations within the manufacturing environment. Learn how to ensure all point of use applications are using your compressed air in the most effective and efficient way possible. Learn how much it costs to produce that compressed air and how Engineered Nozzles can help you use your air more effectively and efficiently.