Conterra will be hosting its first producer focused webinar Monday, February 26th at 1 p.m. CST.
Conterra, a leader in the agricultural lending industry, will be hosting their first producer focused webinar on Monday, February 26th at 1 p.m. CST.

The webinar will tackle a variety of topics including who is Conterra, the overall lending economy, and how Conterra can fit into your lending plan. To register for the webinar, interested producers can either link directly to the webinar registration here, http://bit.ly/2Cy6OfI or head to conterraag.com and select "register" in the upper right hand corner. In case you arent able to login on Wednesday, the webinar will also be available to download on conterraag.com
Conterra provides industry leading agricultural loans and asset management services nationwide. Focuses exclusively on agriculture, providing loan servicing, alternative lending and asset management to institutional investors, banks, and other agricultural lenders throughout the United States Conterra supports American agriculture through creative financial services. For more information about Conterra, head to http://www.conterraag.com or call 855-381-3451.
Featured Product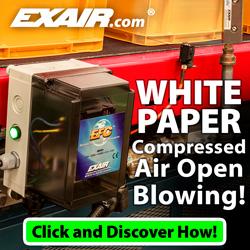 Compressed air is a limited resource that is generated in-house for the benefit of many operations within the manufacturing environment. Learn how to ensure all point of use applications are using your compressed air in the most effective and efficient way possible. Learn how much it costs to produce that compressed air and how Engineered Nozzles can help you use your air more effectively and efficiently.