Pegasus Food Futures will be showcasing their pioneering hydroponic farming capability at the Global Forum for Innovations in Agriculture, in Abu Dhabi on February 5th and 6th.
Leading owner and operator of hydroponic farming facilities in Europe, the Middle East and Africa, Pegasus Food Futures will be showcasing their pioneering hydroponic farming facilities at the Global Forum for Innovations in Agriculture (GFIA) Exhibition in Abu Dhabi on February 5th and 6th at the Abu Dhabi Exhibition Centre.

With the world population set to grow from current levels of 7.3 billion to 8.5 billion by 2030 and 11.2 billion by 2100, ensuring long term food security has never been more important. Providing an affordable and reliable food source that is also environmentally sustainable is essential to meet the needs of the growing population. Pegasus Food Futures provides solutions for these global food supply challenges through its operations and innovations in farming, livestock, feed stock and food production.
Their primary goal is to provide security for our food and agricultural future. Through continued investment into hydroponic farming technology, techniques and innovation they aim to support food security by growing sustainable and consistent produce that offers consumers a high quality, reasonably priced and fresh harvest each and every time.
Hydroponics explained
The hydroponic system is a soil-less culture for crops in which water and nutrients are delivered directly to the roots of the plant, dispensing with the need for the plant to expend precious energy growing long roots through the soil to reach these vital ingredients. Produce is grown in advanced, environmentally- friendly greenhouses, equipped with technology that controls and monitors each plant's nutrient intake with optimum accuracy. The design of the hydroponic farming systems ensures that the system uses up to 90% less water than traditional agriculture. Not only does this preserve precious natural resources, it also helps to reduce costs. This is particularly important for farms located in arid regions like the GCC, where water is scarce. Hydroponic farms in such regions can make use of the long periods of natural sunlight and produce affordable crops that reduce the need for the region to rely on expensive imports. Moreover, the controlled conditions mean the crops require no pesticides and produce consistently high yields.
A hydroponic farm can continue functioning for more than 100 consecutive years, resulting in a secure, stable source of both food and employment for the local area.
The Global Forum for Innovations in Agriculture
Pegasus Food Futures will be exhibiting at GFIA on Feb 5th and 6th and the farming and business expert James Yau will be giving a talk on Combining Operations and Finance to Provide Best Fit Solutions: Bringing the Offline of Traditional Farming Online at the Controlled Environments and Indoor Farming conference session at 11.30am on 5th February.
James Yau has 20 years' experience in management consulting in North America and Asia. In early 2009, he established and operated more than 10 farms within Asia Pacific. In 2013, he founded a retail chain to sell safe, high quality food produce in Hong Kong. During 2016, he partnered with a well-established Hong Kong wholesale company and penetrated the south China region which now trades over 65 million kilos annually. With extensive knowledge of financing and operating farms combined with technological expertise, James offers a unique opportunity to learn about how to bring traditional farming online.
Exhibition attendees can visit the Pegasus Food Futures stand in B20 and attend James' talk in the Conference Theatre, with the session starting at 11:30pm, Monday, 5 February.
Keep an eye on the Pegasus Food Futures social media channels from for updates, news and pictures from the show (Instagram @pegasusfoodfutures, Twitter @pegagsusff, Facebook @pegasusfoodfutures)
Currently, hydroponic farming comprises only 1% of world agriculture. There is huge room for expansion of this innovative, sustainable solution to the problem of the growing demand for food. Pegasus Food Futures are keen to expand their portfolio and will be on hand to talk to farmers and investors alike.
About hydroponic farming
The System
The Pegasus Food Futures System (PFFS) combines intellectual property, seed germination processes and bespoke nutrient formulas that produce superior crops compared to competitors. From 2013 this system has been refined and adapted with continued investment into innovation ensuring that Pegasus Food Futures remains the market leader in the Europe, Middle East and Africa.
With further farms under construction in Europe the PFFS has been further modified through research and development, investing in people and recruiting new skills into the team. The system and team now has an impressive track record in hydroponic farming technology and the ability to produce a wide range of fresh salad items, soft fruits, herbs and vegetables.
The PFFS needs to also incorporate other key elements which will ensure all of our farms work under a defined efficiency and produce a stable, sustainable, high quality produce each and every harvest.
The controlled environment
Having the right environment is essential for the hydroponic farm. Key elements to a proper environment include humidity, temperature, Carbon Dioxide (CO2), and air circulation/exchange. Most crops grow and bloom according to the amount of light they are given. Generally produce require 10-12 hours of sunlight per day. PFFS uses natural lighting (sunlight) and this is achieved by building our farms in locations where there is an abundance of natural sunlight throughout the year.
All living things need space in which to live, grow, and reproduce. Different crops have different spacing requirements so the growing frames are specifically designed for each crop that is grown.
The water that supplies the plants is tightly monitored and controlled, from the pH to the nutrient balance, which varies throughout the growing cycle. The PFFS uses a unique formula for nutrients, specific to each crop and stage of the growing cycle, enabling the ideal produce to be grown.
About Pegasus Food Futures
What's New?
In 2017 Pegasus Food Futures acquired farms in Abu Dhabi, Ras-Al-Khaimah and two sites in Portugal. For more highlights of 2017, visit: http://pegasusfoodfutures.com/highlights-of-2017/
Featured Product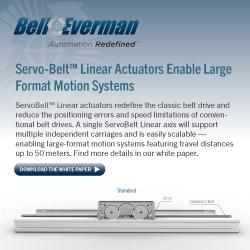 Manufacturing and packaging operations that still depend on manual material or parts handling operations can reap immediate benefits from a type of automation based on long-travel Cartesian robots with custom end-of-arm tooling (EOAT) and advanced sensing capabilities. These robots can support a variety of machines - performing otherwise manual tasks such as machine tending or transferring in-process parts - making long-travel Cartesian transfer robots a major upgrade to processes and operations. Download the White Paper from Bell-Everman