Company partners with Bethel TriYield to launch tools for Florida agriculture, with a focus on Citrus
Production challenges are at an all-time high for many crops, and an Ohio-based company is developing natural, microbial-based products that address growers top concerns. Locus Agricultural Solutions™ (Locus AG) is creating innovative, eco-friendly alternatives to chemicals that fight a variety of challenges. The company has also joined the community of innovation working to resolve the Citrus crisis resulting from Citrus Greening Disease in Florida. Locus AGs unique portfolio of beneficial microbes—which are produced through a revolutionary, local fermentation system—is focused on improved soil health, pest control and enriching the root microbiome to strengthen the natural vitality of crops.

Locus AGs local fermentation system removes many historical barriers to the effective use of beneficial agricultural microbes, which increases crop productivity and reduces or eliminates the need for various chemical agricultural inputs. The first-of-its-kind, modular fermentation process allows large quantities of high-potency beneficial fungi, bacteria and yeasts to be produced locally, and then delivered via local distribution directly to growers within hours to days after production—ensuring the best possible performance of these living products. Locus AG will establish its first fermentation center with Bethel Farms in Arcadia, Florida. Bethel Tri-Yield™ will serve as Locus AGs distributor in the Florida markets.
'What makes our production system unique is the opportunity it offers to produce almost any beneficial microbe locally, resulting in fresh, high-potency end products that can be extremely beneficial tools for growers as they work to better manage threats such as Citrus Greening," said Paul Zorner, president and CEO at Locus AG. "Local fermentation removes the extended supply chain that is expensive and hard on living organisms—offering better performance and an ability to utilize a broader range of effective microbes that wouldnt otherwise have any chance of surviving. The proprietary process also allows us to specifically customize local-tailored solutions for growers and their needs—unlike nationally distributed fixed-formula products made remotely."
The integrated Locus portfolio will begin with Rhizolizer™, a microbial blend of beneficial fungi and bacteria that promotes soil nutrient availability and supports improved crop vitality. Rhizolizer was developed with the specific intent of providing enriched microbial soil diversity, and to support improved nutrition and improved vitality to Florida citrus groves impacted by citrus greening. Rhizolizer was trialed in 2017, under the name Vitalizer, on over 350 acres representing 160,000 Florida citrus trees. Initial results show significant increases in root growth, canopy density and overall crop vigor. Trials conducted in other regions have also shown improved yields in vegetable crops such as tomato and potato.
Locus AG has several other products in the development pipeline and plans to continue introducing disruptive technologies that can quickly scale domestically and internationally to treat hundreds-of-thousands of acres from local fermentation centers placed in key agricultural regions. This includes a special focus on both microbial products and diagnostic tools to specifically help growers better manage citrus groves impacted by Citrus Greening Disease.
"Ultimately, our goal is to provide economically favorable, environmentally friendly agricultural microbials that support crop productivity and farming resilience, starting with the Florida market," Zorner said. "Just like probiotics have positive effects on humans, these beneficial bacteria can support and enhance crops as well—results weve seen in initial trials."
Rhizolizer was commercially introduced in Florida in December 2017 and is available from Bethel TriYield, one of Florida's leading agriculture companies. Rhizolizer is labeled in Florida for use in citrus, sod and vegetables.
For more information on Locus Agricultural Solutions, the use of the Rhizolizer product or the companys partnership with Bethel TriYield, visit locusag.com.
###
About Locus Agricultural Solutions™
Locus Agricultural Solutions™ (Locus AG) was launched with the strategic aim of providing growers with science-based solutions to address several challenges to agricultural productivity: crop vitality and nutrition, soil microbial health, insect pest management and plant disease management. These solutions include new tools for integrated management practices to better manage pest resistance in lieu of traditional chemical options, and to manage stressed water supplies. The company utilizes a ground breaking, proprietary on-site fermentation system to produce fresh, dense batches of agricultural microbes that are delivered by established local distributors directly to the grower for application within hours to days following their production. Locus AG is leveraging its core scientific capabilities from its parent organization, Locus Solutions, LLC, an Ohio-based industrial bioscience company. For more information, visit LocusAg.com.
About Bethel TriYield™
Bethel TriYieldTM is proud to be the Florida distributor of Aqua-Yields™ proprietary nanotechnology process for liquid fertilizer, maximizing nutrient uptake and crop yields, and also for Locus Agricultural Solutions—developers of a revolutionary on-site fermentation system to transform validated microorganisms into reliable, cost-effective products, fulfilling the crops natural genetics. For more information on offerings, visit TriYield.com.
Featured Product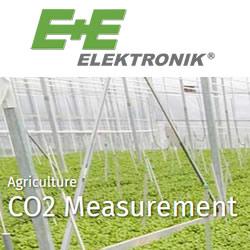 Lowering of energy costs, acceleration of growth and extension of the possible storekeeping duration can be optimised by the precise measurement of humidity, CO2-content and temperature. Optimum basic conditions for animals and plants ensure best agricultural products. As different applications demand various adopted solutions for optimization of agricultural processes, E+E Elektronik provides a broad portfolio of agricultural monitoring products